What is a Pincho?
What is a pincho? Pincho is yet another Puerto Rican term that can be very confusing for anyone who has learned Spanish elsewhere. You see, in Peruvian Spanish, pincho refers to a man's penis (in a not-so-classy way). While the similiar term, pinche is basically an all-purpose curse word in Mexico. So, for obvious reasons, I was expected the worst for the term in Puerto Rico.
Turns out, it's just a kabob
Seriously, Puerto Rico? All those crazy slang terms, almost all of which are dirty, and this one is just a bunch of meat on a stick?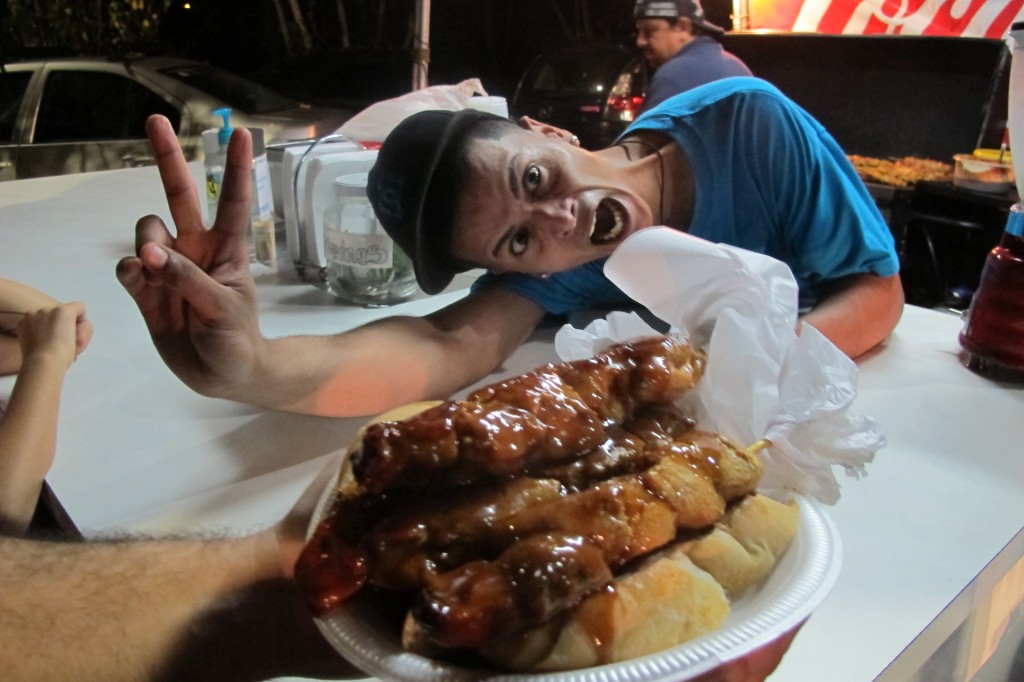 I know this post is really about the food, but I do want to stop and discuss the awesome factor of this photo. This plate contains pinchos for several people. We purchased these pinchos late at night in Boquerón, in an area that is just full of bars, pincho stands,  flamboyantly gay people, and just a lot of drunks near the ocean. It's a pretty awesome. This guy sold me these pinchos, and wanted to be in the photo. How could I deny him?
Okay, back to the question: What is a pincho?
I would call it a kabob without vegetables. It's basically any sort of grilled meat on a skewer, generally topped with a generous amount of sauce. Pinchos also come with a slice of bread. I imagine the bread is there to help soak up all the tasty sauce. The photo above shows chicken and pork, but you can get all kinds of meats such as shark, shrimp, cod, and beef as well.
Pinchos are the perfect late night snack (or meal), especially if you have been drinking. I wouldn't recommend more than one though, because they are quite filling.
6 Responses to What is a Pincho?