Travel Cooking: An Ode to Eggs
While traveling, the food budget sometimes gets a bit tight. Throw crappy hostel kitchens on top of that, and it's a wonder some budget travelers don't starve. I recently remembered a conversation I had with Stephanie about the wonders of eggs and how they are a staple for all budget travelers. I recalled the memory with such fondess that I composed an ode to this wonderful food.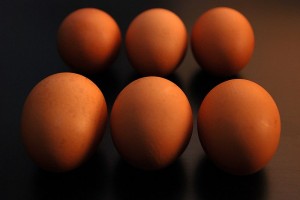 Ode to Eggs
Oh dearest eggs, you delightful food
You're a traveler's best friend, you know
You're filling and quick, simple to prepare
Plus you're cheap, when my funds are low
When I need some protein
Or a filling snack
It's your thin shell
I start to crack
Scrambled, boiled, poached or fried
It just depends how I feel
All I know is that a well cooked egg
Improves almost any meal
Stuck in a hostel with one crappy pan
And fridge full of things turning green
I just fry you up and slap you on rice
Add some bread, and I'll eat like a queen!
So thank you, dear eggs, you're a traveler's dream
Consistently cheap and nutritious
A versatile food that's so budget-friendly
And pretty much always delicious.
2 Responses to Travel Cooking: An Ode to Eggs