Snorkeling in Mexico on Isla Coronado
I recently wrote about hiking in 5-dollar flip flops on Isla Coronado during my stay with Villa del Palmar Loreto. While the views were incredible, the hike was not the main attraction, seeing as we all know I hate hiking. I wanted to go snorkeling in Mexico, even if water activities occasionally freak me out. Give me a break, I'm Midwestern. I laugh in the face of tornadoes, but I cower at the sight of a sharp coral reef. I was determined to see some amazing things, and thanks for the great Wild Loreto tour guides, I was not disappointed.
I had my first snorkeling experience only a few days before, near Honeymoon Cove. It was really cool, but the water was a little murky so I didn't get to see as much. As soon as we docked the boat on Isla Coronado, I knew that would not be a problem this time.
The tour guide warned me that the water was cold, but after that impromptu hike, I was ready to dive in. Of course, I didn't dive, I did the "string ray shuffle" and pleaded with the ocean not to send any sting rays out to attack my feet. I made it past the beach and quickly swam along several reefs. There was so much to see I could barely decide where to look. The water was so clear and there were gorgeous fish everywhere. Every couple of minutes I was popping my head up to ask the tour guide what kind of fish I was hovering over. I was thrilled to get close to a pufferfish, a little less thrilled to get a little too close to an eel. More than once I got distracted and allowed myself to float rather close to the reef as well. I have this slightly irrational fear of getting a disastrously deep cut from a reef and then become a bloody mess while stranded in the ocean. I've seen too many movies, clearly. But seriously, didn't you see Aldous Sno in Forgetting Sarah Marshall? That little bit of reef totally destroyed his leg!
Snorkeling followed by sea lions – Mexico is the greatest
After snorkeling, we climbed back in the boat and went on a scenic ride. A lot of the islands in the area have beautiful rock formations caused by volcanic eruptions. Not only were the colors really interesting, but the way the rocks curved while still towering over the water reminded me of a Dali painting.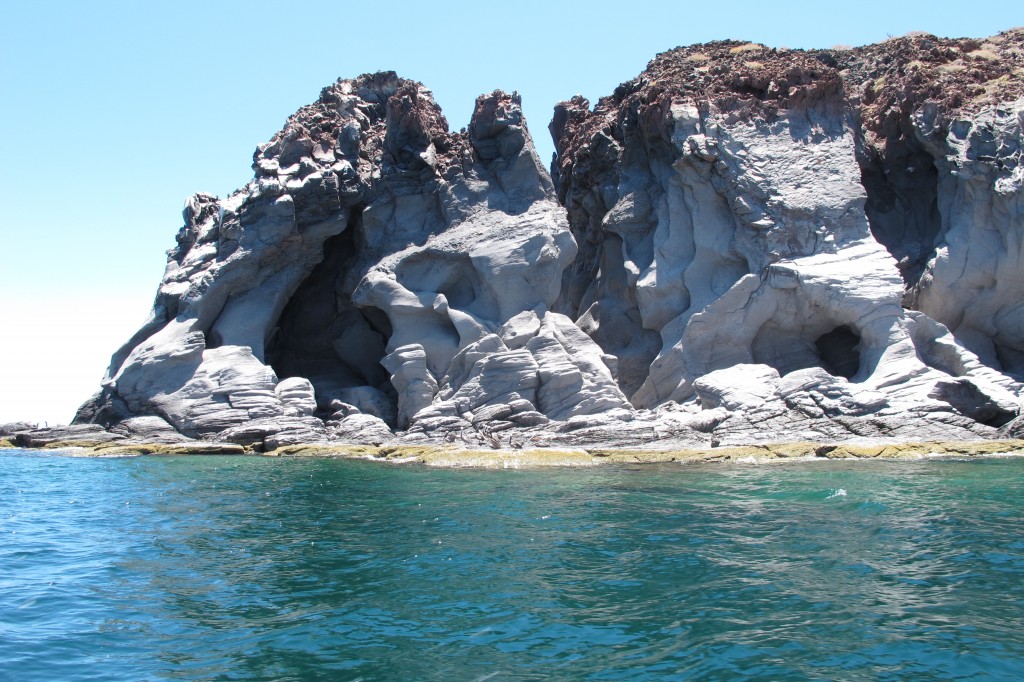 Then came the main attraction – the sea lions! The boat starting creeping up on a little rock island absolutely full of huge sea lions. As soon as they noticed us, they began to bark excitedly, some of them flapping their flippers and diving in the water. I've seen sea lions in the zoo before, but this was so different. These animals were huge, majestic, and so naturally beautiful. It was wonderful to see them in their natural habitat instead of being forced to perform in captivity.
I have never taken so many photos in such a short amount of time. I didn't want to waste my time behind the lens, so I just held out my camera and kept snapping while I kept my eyes locked on the adorable sea lions. I didn't care that I was getting horribly sea-sick on the tiny boat. I didn't care that my hair was matted and full of salt water. Everything was worth seeing these animals up close.
If you're ever in Loreto, Mexico I highly recommend making time for a trip out to Isla Coronado. You will not be disappointed!
10 Responses to Snorkeling in Mexico on Isla Coronado