Volunteering: Saving the Sea Turtles in Puerto Rico
I recently started volunteering in Luquillo, Puerto Rico, which is close to where I live. I joined a group that helps protect the endangered sea turtles in the area, which are mostly Leatherbacks, or Tinglares in Spanish.
I basically got into this volunteering thing because
1. I like volunteering.
2. Who doesn't want to hang around baby turtles?
3. I work from home and don't usually see a lot of humans. I realize this has little to do with turtles, but other humans have to help with the turtles, so, you know, they have to talk to me.
I am not outdoorsy
I showed up the first day dressed in the closest thing I had to appropriate attire for dealing with turtle nests on a hot, sandy, beach – workout clothes and old workout shoes. Everyone else was wearing fancy beach working gear like dry wick pants, those khaki hats all serious outdoorsmen seem to have, and the kind of shoes/sandals that I imagine are in a part of the store behind a secret "I <3 the outdoors" VIP membership door. In case any of you have forgotten, I hate hiking so I own none of these things. I felt immediately awkward and childish. Especially when they told me to put on my hat and I just sheepishly put on my obnoxiously large polka dot sunglasses. (Oh my god, why did all my more practical, less insane looking sunglasses have to break before this day? WHY?!) 
I am so lucky to be here
I got over my awkwardness quickly, because within five minutes of arriving at the beach, we discovered a fresh turtle nest, which we got to investigate, section off, and document. I realized how little anything else about how I was feeling mattered.
The volunteer group that I am working with is called the Tortugueros, and they work directly with the biologists who monitor these nests. I honestly thought I would just be picking up trash around the nests, fixing ripped flags, and taking notes to hand over to the biologists, but we get to do so much more, and that is a true honor.
Being a Tortuguero is serious. The word "tortuga" means turtle so I like to think "Tortuguero" basically means Turtle Warrior. There is no linguistic backing for this, the direct translation is more like "Turtle-er" which makes no sense, and honestly, the way "tortuguero" is said, it just feels like Turtle Warrior. Please just let me call myself a turtle warrior, okay!? Okay.
Discovering the nests
The first thing you notice about the nest is usually the tracks leading to and from the nest. By following these tracks, you can figure out more or less where she stopped, worked on the sand, and left her eggs. Once we figure this out, we go to work marking the nest with a stake, and sectioning off the nest so that no one tramples or disturbs it.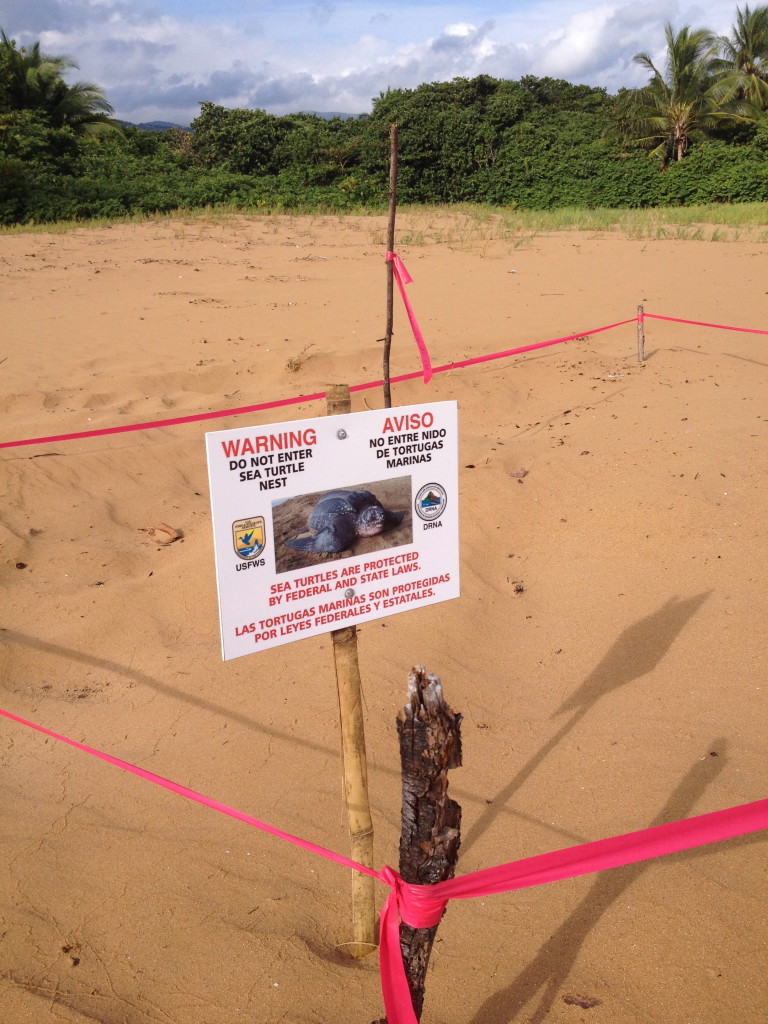 This is not actually one that we found and marked, but I wanted a photo of it because it was one of the few that had the sign letting people know that it was a protected turtle nest. The stake in the middle is approximately where the nest is. This stake has a red flag, which means a biologist has given this a GPS location. Volunteers such as myself use yellow tape with specific information for the biologists.
Babies were here!
By far the most exciting part of my first day was finding a nest that had hatched over night. From the nest, we saw a fan of about 30-45 tracks made by the baby turtles hatching and making their run for the ocean.
The tracks showed us that the hatching most likely happened the night before or early in the morning before the sunrise. However, the sad proof was that we found two dead sea turtles who just didn't make it. The happy news is we always release their bodies into the sea.
When we find a nest that has hatched, we have to mark the exact spot where they came out, so we can open up the nest a few days later to count the hatched eggs and look for any stragglers, which leads me to my second day.
Baby turtles! Making a run for it!
On my second day, my dream of seeing and holding a live bay turtle came true! When we opened up the same nest that had hatched 5 days earlier, we found two live turtles who were having trouble getting out. We guarded them in a shaded box full of sand while we continued our work.
The rest of our work included counting the eggs that had hatched, eggs that had dead embryos, and empty/false eggs. I say "we" but I really mean these awesome guys. I was busy making sure those adorable baby turtles didn't get stuck on their backs or give up. 
Go, turtle, go!
We attempted to release the two babies into the ocean. One of them was too weak, but don't worry, he was placed safely back into the box to be released at night with some other babies who needed some rest before hitting the waves. This video shows a turtle who wanted that ocean!
If you enjoyed this, make sure you stay tuned for more blog posts about the Tortugueros and my leatherback sea turtle adventures. You can also see exclusive photos and videos that won't be on the blog by following me on Instagram!
10 Responses to Volunteering: Saving the Sea Turtles in Puerto Rico