Recipes from Mexico: Chipotle Sauce
During my stay at Rancho La Puerta, in Baja California, Mexico I had the privilege of taking a cooking class at La Cocina que Canta with visiting chef, David Cohen. You may have caught my other post about this experience, which included a recipe for a delicious Watermelon Gazpacho and a Quinoa Salad.
This post will focus on a chipotle sauce which can be used for many things, but we used it for these delicious enchiladas (recipe here):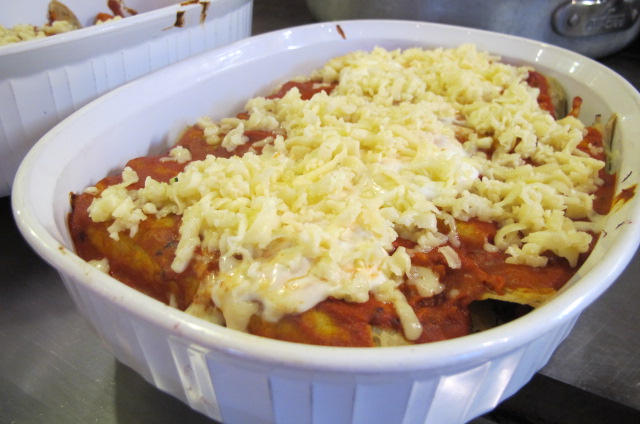 Chipotle Sauce Ingredients
2 tablespoons diced onions
1 teaspoon chopped garlic
2 tablespoons olive oil
1 cup tomato puree
1 chipotle pepper (canned in adobo sauce) chopped
1/2 cup plus 2 tablespoons heavy whipping cream or soy creamer (optional)
Chipotle Sauce Instructions
Yields about 1 1/4 cups sauce
1. In a large sauté pan over medium heat, cook the onions and garlic until the onion is translucent, 3-5 minutes.
2. Stir in the tomato purée and chipotle pepper and bring to a simmer over medium heat. Continue to cook for 15 minutes, stirring occasionally, to allow the flavors to blend and the sauce to reduce slightly; lower the heat if the bottom of the pan gets too hot so the sauce doesn't burn.
3. Remove pan from the heat and whisk in the cream, then set aside.
Serve on top of all types of things that you wish to make extra delicious.
One Response to Recipes from Mexico: Chipotle Sauce