How I Got the Southwest Airlines Companion Pass
For those of you who don't know what the Southwest Companion Pass is, let me sum it up for you:
The Southwest Companion Pass allows you to designate one person as your Companion. That Companion can fly with you FOR FREE for an entire year
You can read all the details on Southwest's site, but trust me, it's pretty awesome. And guess what? I have one!
Do you want to know How to Earn a Southwest Companion Pass?
In order to get a Companion Pass, you have to earn 110,000 Qualifying points or fly 100 qualifying flights within a single calendar year. I know, I know, 110,000 points is A LOT of points and 100 flights in a year, even for a travel writer, is pretty much crazy town. If you don't know how to work the system, the Companion Pass might seem like a coveted item destined only for the rich business travelers who are spending a ton of money and flying somewhere once a week.
In case you didn't know this, I am neither rich nor do I fly 100 times a year
I am so excited that I finally earned my Companion Pass, but I am even more excited to let you guys know all of my point-earning secrets. Just so you know, I do not get any sort of benefits or compensation, financial or otherwise, from Southwest Airlines. Although I have tried to get them to start a referral program, that has not happened, so I am recommending these tips as a traveler and a big Southwest Fan, not as a Southwest Representative.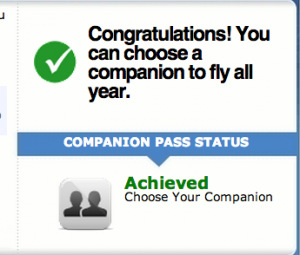 Get yourself a Rapid Rewards Account
If you haven't already done this, freaking do it, immediately. It's free and it takes like 5 minutes. Also, if you have taken any flights on Southwest and either forgot to add your Rapid Rewards number or did not have one at the time – you can still get those points. Log in to your account and click on "Add Past Flight Points." Get those points!
Apply for A Southwest Rapid Rewards Credit Card
This is essential. Unless you plan on taking an insane amount of flights, I doubt you could manage to get the Companion Pass without having a Rapid Rewards Card. Think of it this way – you are inevitably going to spend money, so why not get rewards points for it?
Southwest occasionally has a $50,000 point sign up bonus for spending $2,000 in the first 3 months. Right now, the signup bonus is for 50,000 points after you spend $2,000 on your card within the first 3 months. Those 50,000 points are crucial, so do not make the mistake of signing up for the credit card without using a special promotional link. Southwest recently gave me a referral link that gives friends the 50,000 point sign-up bonus even when it is not available to the general public. Full disclosure, I also get referral points. At the time of this posting this link will allow you to get the sign up bonus. UPDATE: I updated this link as of 1/11/18. If you are having issues with it, please contact me and I'll do my best to get you an updated one! 
When I signed up for my card, I made the mistake of not going through a promotion link. In the end, I was able to speak with someone at Customer Service who informed me that I had used a link that gave me a measly $100 bonus instead of the 50,000 points. We compromised and she revoked my $100 bonus and granted me 40,000 points, but the mess still cost me 10,000 points. Not cool.
If you can get a personal AND a business card, do it.
Normally I wouldn't advise anyone to load up on credit cards, but this will be worth it. If you happen to have a business, wait about a month after applying for your personal card, and then apply for a business card using the same promotional link. You will be able to link the same Rapid Rewards number to both cards, meaning that if you get your sign up bonuses, you'll be at 100,000 points within just a few months. Getting those last 10,000 points will be a breeze.
If you cannot qualify for a business card, keep on reading
While I did attempt to convince Chase that this website and my freelance ventures were technically a "business," they were just not interested in granting me a business card. Alas, I had a mere 40,000 points and still 70,000 to go.
Put everything on your credit card
Seriously, anything that doesn't charge you a fee to pay on a credit card – put it on that card. You get 1 point per dollar on any purchase, plus 2 points per dollar on anything you purchase through Southwest (such as drinks on the flight). It may not seem like much, but I would estimate that I earned around 20,000 points between the time I got my card (March 2013) and the end of the year (December 2013). Not only did that push me towards the Companion Pass, it allowed me to purchase some flights with those points.
Use Rapid Rewards Shopping
This is where spending money racks up points way faster than just your normal 1 point per dollar. The Rapid Rewards Shopping Portal has hundreds of online retailers that you most likely shop at anyway. Most of them will offer at least 2 points/dollar, but there are always specials and you can sometimes earn as much as 20 points/dollar along with bonuses for spending a certain amount of money through the portal within a certain amount of time. Including those bonus deals, I earned approximately 7,500 points in 9 months. I'm not a very big shopper, so imagine what a big spender could earn just for buying stuff online. One of my favorite things to do is buy gift certificates to stores. I usually earn at least 2 points/dollar versus the 1 point/dollar I'd earn in the store, but then I can just go to the store to get my stuff. I do this all the time with PETCO and AMC Theaters.
Sign up for Rapid Rewards Dining
I will admit upfront that the Rapid Rewards Dining program did not do a whole lot for me, but if you can find restaurants in your area that you like that also participate in this program, you'll be able to earn a few points just for eating. Once your register your card, you will earn 3 points/dollar if you use your Rapid Rewards card at participating restaurants. There are also specials and bonuses for things such as submitting reviews.
Sign up for the Rapid Rewards Report Email
Not only will these emails actually provide you with useful news on how to earn points throughout the year, you'll also get 500 points just for signing up. You can register here. Note: The link will only work if you're already logged into your Rapid Rewards Account, so log in, then click.
Get an account on E-miles and E-rewards
If you don't mind taking online surveys and occasionally watching short videos, both E-miles and E-Rewards are simple ways to earn some points, albeit slowly. E-Miles surveys are generally super short, they take 5 minutes or less and are usually worth 5 points. It seems small, but I earned 2,000 points through them in about 4 months. E-Rewards surveys are much longer, but the payout is better, usually at least $3.00 in E-rewards currency. The lowest amount you can transfer into Southwest Points is $25, which is 500 points. I got started late with E-Rewards, so I only had 3 months during 2013, but I still managed to earn a little over 500 points. In 2014, I've already earned about 1,500 and it is only March, so it's definitely worth it.
Consider upgrading your flight
I know one of the main reasons people choose to fly Southwest is their low prices, but sometimes it actually pays off in the long run to purchase a more expensive flight. The points earning works like this:
Wanna Get Away Fares: 6 points/dollar
Anytime Fares: 10 points/dollar
Business Select Fares: 12/points/dollar
Usually, the price difference between Wanna Get Away and Business Select is pretty significant, but if it's only about $100, you might want to shell out the extra cash. I did this when I was flying to Detroit.
The Wanna Get Away fare was around $100, one way. The Business Fare was around $250. The Wanna Get Away fare would have earned me 600 points, but for $150 more, I could earn 3000 points. That's a big difference. Plus, Business Select gets me an automatic A 1-15 boarding position and an alcoholic beverage. I like that.
Southwest often runs specials for double or even triple points to certain destinations. While I do highly recommend them for the sake of earning points, these bonus points will NOT count towards your Companion Pass! I found this out the hard way when I took an insane points run to San Juan, Puerto Rico during a triple points promotion. (More on points runs in a post next week!) I paid extra for business fare, calculating that a weekend trip in San Juan would earn me over 23,000 points and thus finish off the points I needed to earn the Companion Pass. Well, I did get over 23,000 points, but only about 7,500 of them counted towards my Companion Pass.
Book Hotels and Rental Cars Through Southwest
Once again, I will admit I did not really benefit from this, but that doesn't mean you can't. Personally, I almost never rent a car and I don't stay in hotels all that often, but if you do either of those things, you can earn some easy points by booking through Southwest. Most hotel and rental car bookings will earn you a flat reward of 600 points, although promotions will often offer you upwards of 1,300 per booking.
I do feel the need to tell you that I rarely felt that the prices were worth the points. The few times I looked at booking a car rental through Southwest, I was able to find much lower prices directly with the companies themselves. I would say it's only worth paying a bit more for the same hotel or car if you are going to get a significant amount of points.
My Companion Pass
I'm really thrilled that I was able to get my Companion Pass. It just shows that if you know how to really work the system, you don't have to be a big spender or a business traveler to reach this goal. I plan to attempt to earn the Companion Pass again for next year, but without those 40,000 bonus points, I admit it will be a lot trickier. Stay tuned for any more tips I can find, and please share yours as well!
31 Responses to How I Got the Southwest Airlines Companion Pass