Help Me Help Puerto Rico
If you have been following my blog for awhile, you will know that I lived in Puerto Rico for over two years. I moved back to the mainland in March 2017, but I still have quite a bit of  family and friends on the island. It has been incredibly stressful and heartbreaking for me to watch the island of Puerto Rico, my former home and my boyfriend Pedro's homeland, get leveled by Hurricane Maria.
Help Me Help Puerto Rico
It has been infuriating to see logistics and politics get in the way of relief
efforts. Communications are still down and I can barely get in touch with friends and family, but when I do talk to them, they tell me that supplies are low. Stores are empty. Banks are closed. The relief items are not making it to smaller towns.
I want to send supplies directly to families
While there are charities and organizations collecting donations, I want to take a more direct approach. Pedro and I are working with a friend who also has family in Puerto Rico to collect donations for care packages that will be sent to communities throughout the island. This is important because, oftentimes, smaller towns do not get the same amount of attention and help as the metro area. 
We have already begun the process of talking to friends and family to ask them exactly what supplies they and their neighbors need. Each person we send supplies to will also be responsible for families in their neighborhood, which means our supplies will reach far beyond our personal friends and family.
How you can donate to help Puerto Rico
There are a few ways you can donate. If you want to donate cash, you can send it to me via Venmo (@rease-kirchner). I will share photos of receipts for items/shipping costs. 
If you want to donate cash but don't feel comfortable sending it directly to me, you can also go through the law office I work for. They have been kind enough to set up a donation page here. The money is all going to the same place, but I totally understand if you would rather go through a business.
If you would rather purchase items, you can buy items off this Amazon Wishlist.
You can also buy gifts that help Puerto Rico
A close friend of ours has dedicated her Etsy Shop, Owlr Designs, to Puerto Rico relief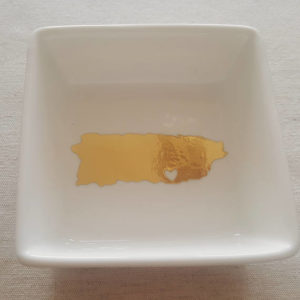 efforts. She has super cute stuff (such as the jewelry/change/key dish shown here) and takes custom orders. Now through October 15th, all proceeds from her shop will go to Puerto Rico relief efforts.
I recently helped Pedro and his brother, Carmelo, launch and Etsy shop, Trade Winds Glass Shop. They were inspired by Owlr Designs, and decided to take profits for all current stock and put them directly towards our care package efforts.
Donate to Puerto Rico specific charities
If you would prefer to go through a charity, please donate to organizations that are focused specifically on Puerto Rico, such as Unidos Por Puerto Rico  or the Hispanic Federation.
I also received this list on local efforts from a friend in Puerto Rico:
Thank you for all your help!
Updates
I will continue to add photos and updates of donations/items sent here.
Post offices are opening up across the island, but only for package pickup. I have purchased some supplies but will not be sending everything all at once for two reasons:
This will be a long recovery process. People will need help for months. 
Mail delivery is still a work in progress, I don't want to risk all the supplies being lost, so I am sending test packages.
10/5/17
Donations received  to date: $665.00
Money spent on Supplies to date: $275.25
Other donations received: 12 pack C Batteries, 500 count Ibuprofen, 4 packs of baby wipes, 2 packs of diapers.
We purchased first aid supplies in bulk and made our own first aid kits that included alcohol swaps, Advil, stomach/diarrhea medicine, gloves, Neosporin, and a ton of bandaids.
Receipts:
10/6/17
Donations received  to date: $665.00
Money spent on Supplies to date: $316.05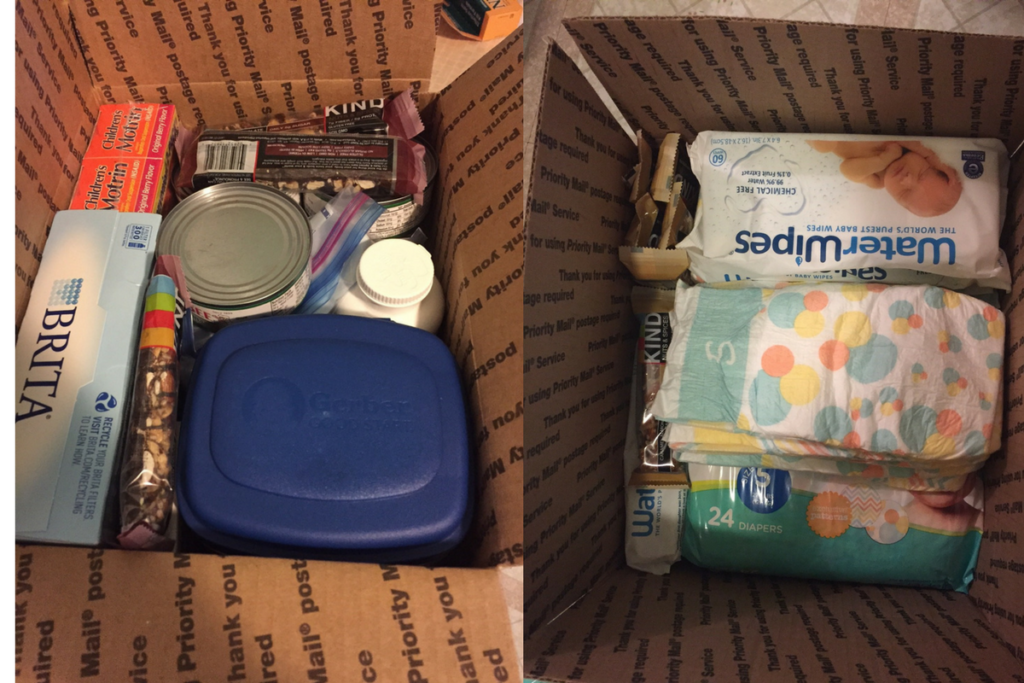 Two test packages mailed to Trujillo Alto, Puerto Rico. A friend of mine in that area has been helping neighbors since the hurricane. One of her neighbors has a baby who is short on diapers and formula, so I wanted to get those items to her right away. I included other items such as children's medicine, stomach medicine, ibuprofen, granola bars, baby wipes, first aid supplies, and Brita filters. She is in an area that occasionally has water, so when it comes on, she can use the Brita filters to filter out as much drinking water as she can before the water goes back off.
Shipping Receipt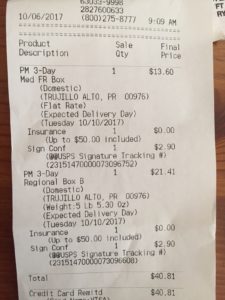 10/7/17
Donations received  to date: $665.00
Money spent on Supplies to date: $351.98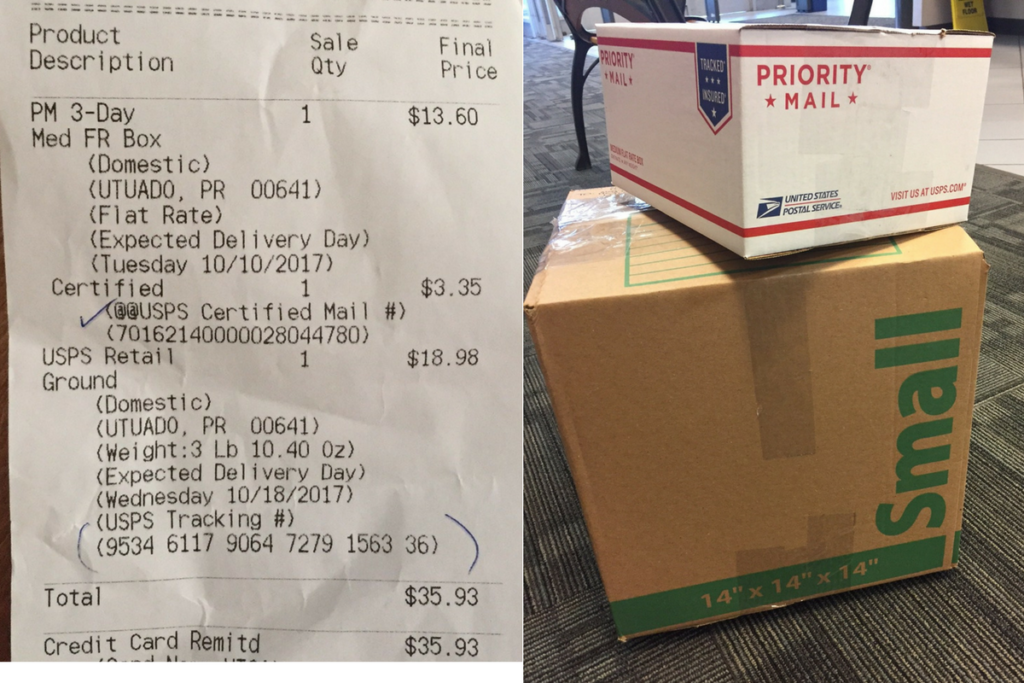 I ended up going back to the post office yesterday. During my first trip, I was unable to send the batteries I had purchased and nearly cried when they wouldn't take the large box that contained a gas can meant for Utuado, Puerto Rico. Right now in Utuado, people have to stand in line for 10 hours to get gas, so I wanted to send an extra 5 gallon gas can to a friend there. I called several USPS lines and got all different answers about how to send batteries. In the end, I just followed advice from other people on the mainland who have mailed batteries to their families. I was able to get the batteries out Priority, but the gas can had to take a slower route due to its size.
Hopefully by Tuesday I'll have delivery confirmations from the Trujillo Alto and Utuado and I'll be able to send more packages!