Green Smoothies – My Before, During, and After Travel Detox
I love to eat. It's pretty much my favorite activity. So, when I travel, I am all about eating all the local favorites, regardless of their health benefits. I've discussed this issue in a few other blogs, noting that if you travel often, the whole "I'm on vacation!" attitude can be very detrimental to your health. I've talked about fitness on the road, and a 7 day detox, but I haven't yet touched on one of my favorite "daily detox" things: Green Smoothies.. Stick with me, and I'll even give you some green smoothie recipes.
They taste better then they look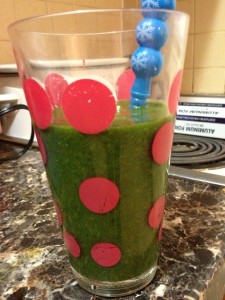 I know, it's green. Generally, green slushy liquids are not something you are excited about consuming, but I swear, they are quite delicious. Personally, I love vegetables, but I will rarely eat them raw. Green smoothies are a great way for me to get my veggies in without really noticing it. The key is the spinach to fruit balance.I generally use half as much fruit as spinach, and it results is a very green, but not too spinachy beverage. I also sometimes toss in some broccoli, but you do have to be careful with that, especially if you have texture issues. Even really great blenders will leave the little tiny balls from the broccoli crown, so you'll have to deal with that. Maybe check your teeth in the mirror after throwing back your green stuff.
Don't be afraid to special order them
I realize that drinking green smoothies on the road is a bit tricky, because you probably don't carry a blender with you. (That is, unless you are Ayngelina, who seriously packs her Bullet for every trip.) However, you'd be surprised how many places would be willing to whip one up for you. If you are staying at a hotel, chances are they have spinach, fruit, and a blender, which is basically all you need. Don't be shy about asking them to make you one every morning. Ayngelina, Cailin, and I had the guys at Villa Del Palmar mixing them for us before we even got to the table. Plus, plenty of places are pretty enthusiastic about their smoothies. All throughout Mexico, you can order a jugo verde and get yourself a fresh, healthy green smoothie in restaurants or from street vendors. Just make sure to ask for fresh fruit and vegetables and no sugar. I know in Argentina they love smoothies, but they tend to add a significant amount of sugar, or use fruit "powder" (God knows what the hell that is) instead of fresh produce. You won't get much benefit from that garbage.
Speaking of benefits…
While I do think green smoothies are delicious, I also drink them for their health benefits. There are the obvious things such as a low-calorie yet filling snack or meal and tons of vitamins in one drink, but I also get great skin out of the deal, not to mention more energy. Over the holidays, I fell into the lazy, over-eating blob that so many of us become during the holiday season. I ran out of spinach one day and, out of pure laziness, never went to buy more. For at least a week I didn't have my daily green smoothie. My boyfriend and I both noticed I slept later, woke up more slowly, and got tired more easily. I was a mess. Once I started back up with workout and green smoothie routine, my energy returned, right away. I also noticed my skin looked much better. Before my holiday slump, I saw an aunt I hadn't seen in months. She looked at me, half-annoyed, and asked how I could possibly have such clear, glowing skin. At the time, I was halfway through a 12 hour day of cookie baking, and completely without makeup, so I couldn't understand what she was talking about. I shrugged my shoulders and said "I drink a green smoothie every morning."
So how do you make them?
Honestly, I consider anything with spinach and fruit in it a green smoothie. I usually just toss about 1 1/2-2 cups of spinach and whatever fruit I have on hand into a blender. Of course, I do have my favorite recipes, which I am happy to share with you. Keep in mind that all measurements and ingredients are totally up to you. If you don't have something, hate something, and/or want to add something – go for it. I will note that I always put tomato juice in every smoothie (which I juice myself and store in mason jars in my fridge). I find that this is especially helpful both for my skin and making blending process easier. However, I know some people either hate tomatoes or get acid reflux from them, so in that case I would say juice carrots, or just add some water.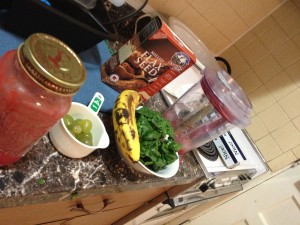 Recipe #1
- Ice (about 4-5 cubes)
- 1/2 cup tomato juice
- 1/2 cup grapes
- 1/2 banana
- 2 tablespoons milled flaxseed
- 2 cups spinach
There is not really a correct order to add everything, but I find it works best if I put the ice in first, followed by the tomato juice and flaxseed. This way, the ice gets chopped up nicely and the tomato juice gives the blender some liquid to work with to get everything nicely mixed up. The flaxseed also soaks into the juice, which is good, because if you put it on top, it tends to just fly around and then get stuck to the sides of the pitcher instead of in your smoothie.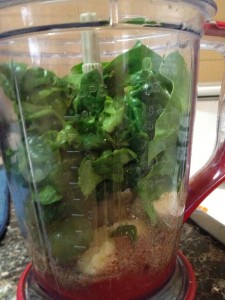 Recipe #2
- Ice (about 4-5 cubes)
- 1/2 cup tomato juice
- 1/2 cup pineapple
- 1/2 cup strawberries
- 2 tablespoons milled flaxseed
- 2 cups spinach
Again, go with the ice, tomato juice, and flaxseed first, then add the rest.
Notes
You can use frozen fruit (and omit the ice) but you won't get the benefits of all the fresh fruit's vitamins.
Flaxseed is basically flavorless, I just add it because it has some protein and fiber in it. I used to use whole flaxseeds but they always got stuck to the side of the pitcher and in my straws. Most grocery stores sell the milled version.
Mason jars are a great way to store juice or chopped up fruit and vegetables. If you want, you can prep enough produce to make your smoothies for the week and just keep them in mason jars in your fridge.
I often use my smoothies as a way to use produce on its last leg. Limp vegetables, slightly mushy bananas, and over-ripe fruit still tastes great in a smoothie.
Let me know if you try the recipes. Enjoy!
8 Responses to Green Smoothies – My Before, During, and After Travel Detox