Getting My Driver License in Puerto Rico
DMVs and their equivalent everywhere are terrible, but I feel they are all awful in their own unique way. After 9 months of living in Puerto Rico, my expiring Missouri driver license forced me to take on the Departamento de Transportación y Obras Públicas (DTOP), or the Puerto Rican equivalent of the DMV.
A few days before my Missouri license was set to expire, Pedro and I logged onto the DTOP website to see what I would need to change out a Missouri license for a shiny new Puerto Rican one. We discovered there are 3 categories.
Category 1: Full Reciprocity
Licenses that can be surrendered in exchange for a Puerto Rico license by only paying a new license fee and not taking any exams include: Germany, Florida, Illinois, Maine, South Dakota, Tennessee, and Wisconsin.
Is anyone else totally confused about how Germany ended up on this list? Puerto Ricans go to and from New York so much that they created the word Nuyoricans and yet New York is not on this list. Meanwhile, Germans can just pop into the DTOP whenever they want and be like "yo, can I just have a legal document of identification?" and Puerto Rico will just be like "Yeah sure, that'll be 11 dollars."
Category 2: Partial Reciprocity
The majority of US states, including Missouri, fell into this category. Partial reciprocity means that anyone holding this license will have to surrender the ID and will also have to take the written exam. The website specifically lists these (and only these) things as requirements to exchange a "Partial reciprocity" license for a Puerto Rican License:
– Valid License
– 11 dollars in sellos/government stamps (You know how at carnivals you have to buy ride and food tickets from one guy just to hand him to the person actually providing the ride or food so that he doesn't touch money? That's basically what sellos are, for the government)
That's it. The website says if you can pass a 20 question written driving exam and turn in these two things, you're golden.
Category 3: Screw you, French Canadians. Oh, and some other random locations can piss off as well
Poor Hawaii, Oklahoma, Rhode Island, Washington, and apparently Quebec.
Ok so the official name of this category is actually "No Reciprocity" but "Screw you" seemed like the general sentiment, because your license is worthless and you have to start from scratch. The website only lists the states, but when I arrived at the DTOP there were three photos of Quebec drivers licenses and each of them had several Xs, red marks, and "NO"s written all over them. One of them had an extra Post It note that said "NO RECIPROCITY." I don't know what the French Canadians did to Puerto Rico, but clearly, they need to talk to the Germans about how to sweet talk Puerto Rico into getting better treatment at the DTOP.
Everything's a lie and nothing matters
As soon as I got to the front of the line, the woman behind the counter presented me with a list of things I would need in order to change out my ID. You might recall that the website's list had exactly two things – $11 and my ID. Here's the actual list:
Valid License
$11 in sellos
Medical Examination
Two 2×2 photos
Birth Certificate or Passport
Social Security Card
Recent bill in your name sent to your home address
So basically, the website was full of all kinds of lies. Luckily, I had anticipated this. I spent months navigating the Argentine Immigrations System, so I had learned that in these situations, it's best to come with everything you could possibly have. The only things I was missing were the medical examination and the photos. Of course, because this is Puerto Rico and nothing "official" actually matters, there are several doctor offices right next to the DTOP who will gladly give you a "medical examination."
You healthy? Good. That will be $27 dollars
I walked across the street to a doctor's office. I sat across from him and he asked me 4 questions. Do you have contacts? Do you have heart problems? Do you have seizures? Are you healthy? I answered "Yes, no, no, yes." He checked the appropriate boxes and asked me the sign the papers. His secretary took my photo and handed me seveal copies. The entire process took 5 minutes and cost me $27 dollars. I walked out of there thinking I had just visited the traffic ticket attorney version of a doctor. The guy wasn't even wearing scrubs or holding a novelty stethoscope. He was just a dude who checks boxes and signs a paper. I wanted to be appalled, but when I thought about how my Argentina Work Visa Medical Exams took half a day and left me sad, hungry, and confused, I figured this was actually a win.
On the way back into the DTOP, two women approached me trying to promote another doctor who was on the other side of the building. They told me I got ripped off, that their doctor would do it for $22 bucks. They were hustling right in an official government parking lot and zero fucks were given by anyone.
Run before they realize their mistake
Once I had all my papers, I presented them to the proper employee. I kept waiting for them to issue me the written exam, but I wasn't about to bring it up. I went through the process of getting my photo taken and was called back up to the desk. The employee handed me back all the papers I had just filled out, including the photos I had paid the sketchy doctor to take. She told me the papers were mine to keep, then handed me a freshly printed Puerto Rican license. I was very confused about the missing test and even more confused by the reasoning behind giving me my papers, but the license was in my hand, so I booked it out of there as fast I could.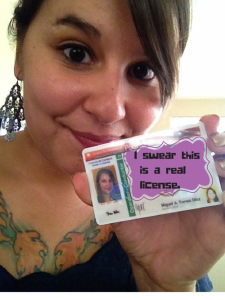 And that, my friends, is how I became a Puerto Rican citizen.
43 Responses to Getting My Driver License in Puerto Rico