Fruit Wine Tasting at Eckert's
I am no wine expert, but I do love a good wine tasting. When I planned an apple picking trip to Eckerts and saw they were offering a Fruit Wine tasting the same day, I was sold.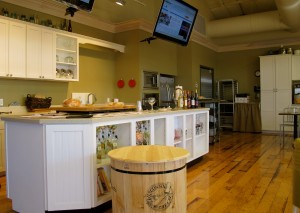 I had basically no experience with fruit wines up until this point, so I entered the class with an open mind.The wines were mostly from local winieries and the food pairings all came from Eckert's farm and country store. Here's a look at all five pairings
Illinois Cellars Apple Wine from Carrolton, IL
This sweet, apple-based wine is similar to a riesling. I am a fan of rieslings, as long as they aren't too sweet, and I felt this one did a pretty good job of keeping the sweetness to a minimum. Since it's a sugary wine, it pairs well with spicy food. We were given a slice of Eckert's Applewurst, which was delicious. I usually don't like any sort of sausage, but I found this sausage was tasty enough to overshadow the wine.
Montelle Peachy From Augusta, MO
This one was very peachy indeed. I didn't think it was too sweet and the peach flavor was fresh and not at all like the fake syrup taste you sometimes get in peach beverages. I enjoyed this as a drink, but I found it tasted more like juice than wine. The food pairing for this was walnuts. The class all seemed to come to a consensus that the walnuts were better in theory than in execution. They didn't really do much to bring out the taste.
St. James Cherry Wine from St. James, MO
I put a big unhappy face next to this one. To me, it tasted like straight cherry juice, but not quite as tart. This was paired with Irish Soda bread, which comes with raisins baked right into it, making it one of my least favorite breads. Overall, this was just a lose-lose for me.
Augusta Blackberry Wine from Augusta, MO
I really didn't have much to say about this wine at all. I felt like it was just juice, and nothing special. The food pairing, however, was a fresh mozzarella cheese, and it was delightful.
Tomasello Blueberry Wine from New Jersey
Once again, I didn't find this wine at all impressive and it didn't leave any lasting impression on me. The food pairing, on the other hand, was by far my favorite. We were served Eckert's frozen custard and a gooey butter cookie. Incredible!
The Verdict?
The tasting was well organized and very informative. I would love to do another tasting at Eckerts. However, fruit wines are simply not for me. My doodles on my wine sheet show my sentiments perfectly:
So, I shall return to Eckert's for another wine tasting, but I'll stick to grapes next time.
2 Responses to Fruit Wine Tasting at Eckert's