I live in Puerto Rico, but Iceland is my favorite island
I currently live on the Caribbean island of Puerto Rico. One might assume that the island I've called home for the past two years would be my favorite island, but they would be wrong. A one-week trip to Iceland quickly won me over. While I've written a bit about my own personal issues with the isla del encanto (Island of Enchantment), the truth is, the favorite island title went to the island that surprised me, again and again. You see, I expected Puerto Rico to have gorgeous beaches with crystal clear water. I knew that Puerto Ricans would make great food and dance salsa beautifully. Iceland, on the other hand, really caught me off guard. I was wholly unprepared for how much I would love the small island. I had no idea that I would spend a week being nearly knocked over by icy winds and surviving on a diet of Skyr and granola and somehow still be dying to stay for just a bit longer. I visited Iceland well over a year ago, and I still look at my photos and think "I have to get back there someday."
So why is Iceland my favorite island?
Black Sand Glacial Beaches
Puerto Rico has incredible beaches and they are certainly the kinds of beaches that are perfect for lounging in the sun with a good book. I could never say that Iceland has better beaches, but the black sand glacial beaches of Iceland were uniquely fascinating. I suffered through bitter winds so I could stand on sand the color of onyx and watch ice-cold water hit the shore with such force that it created froth that resembled bubble bath. I let my hands turn to ice as I forwent gloves so I could get a shot of the volcanic rock-turned-sand with a macro lens. I did all of that just for the sand, long before I got to the breathtaking glaciers.
You can never really prepare yourself for the overwhelming sense of awe you will feel when you are standing on a cliff looking out at huge chucks of ice of varying shades of white, blue, and black. Stopping by the Jökulsárlón Glacier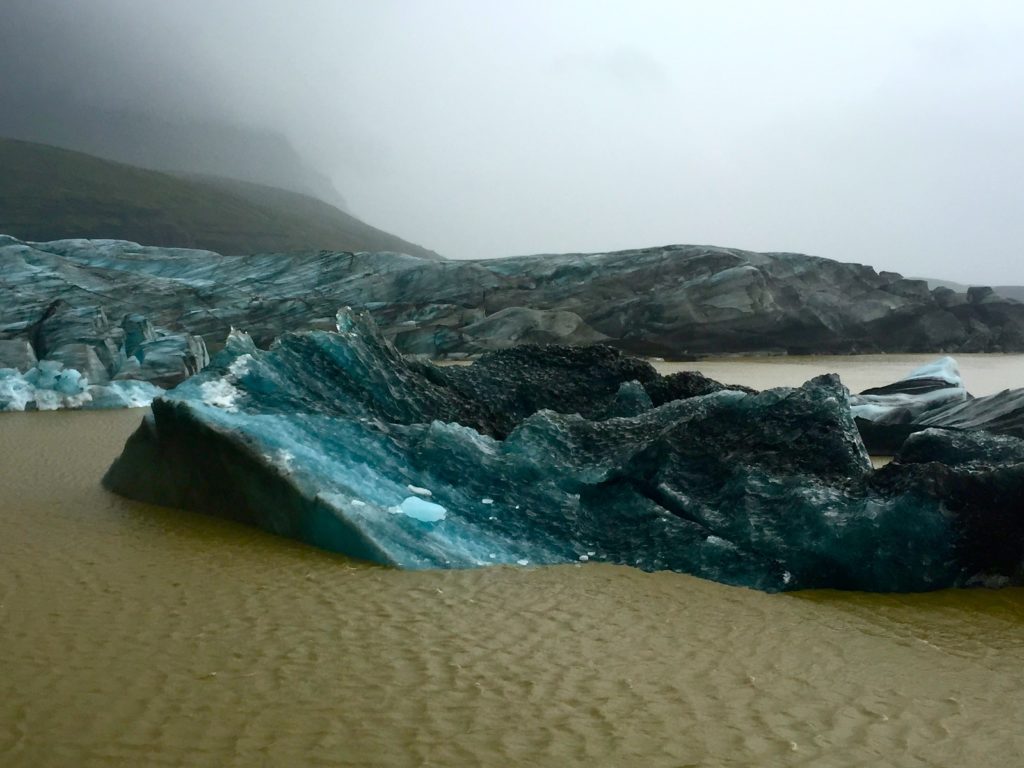 Lagoon was always part of my travel itinerary, but the feeling I got when they came into view was indescribable. I literally gasped as the car approached the parking area and the peaks of the glaciers came into view. On the day I
visited, it was a rainy day in September. So while it wasn't quite winter, the temperature was still pretty low. It was
exactly the kind of cold, rainy day meant for staying in a heated car, but those glaciers called to me. There is something so surreal about the black and grey landscape covered in huge chunks of ice. The glacial beach looked more like art exhibit with ice sculptures of all different shapes, sizes, and colors. I was so enraptured that I didn't notice a huge wave crash into the shore and ended up knee-deep in water that was quite literally glacier cold. Even after that mishap, I walked around shivering for another 20 minutes, unable to walk away from this once-in-a-lifetime sight.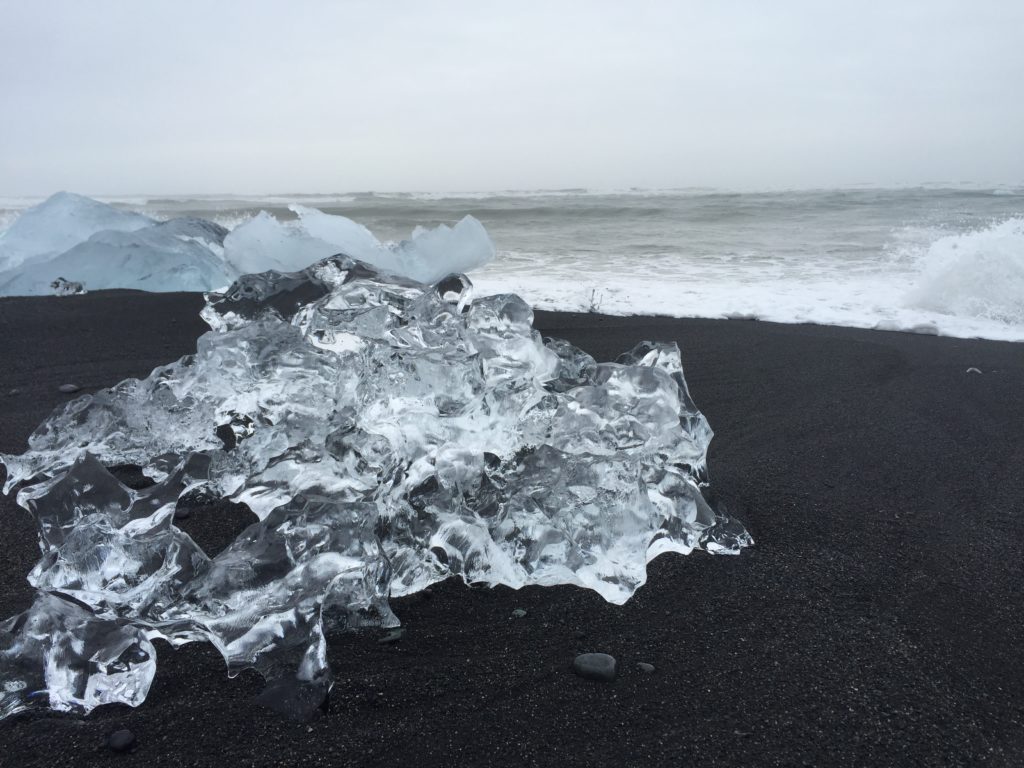 The isolation was somehow inspiring
Normally, I don't do well in small towns. The quaint rural spots that so many travelers find charming often drive me to madness, even after just a couple days. Somehow, Iceland did not have this effect on me. Dani and I drove for hours without seeing any restaurants, shops, or even other cars. I found myself wondering where all the people actually lived in Iceland. It turns out there are only 8 people per square mile in Iceland, while Puerto Rico has a whopping 988 people per square mile. I know that I could never live in a place as sparsely populated as Iceland, but during my trip I found it not only calming, but also inspiring. I wrote more in those 7 days that I usually do in a month. After long days on the road I poured myself cup after cup of coffee and typed furiously while snuggled up under a blanket in whatever tiny cottage we were staying in that night. Something about being in the middle of nowhere in small farmhouses made me feel like I could write the next great American novel, or at least power through some blog posts.
Iceland is lousy with waterfalls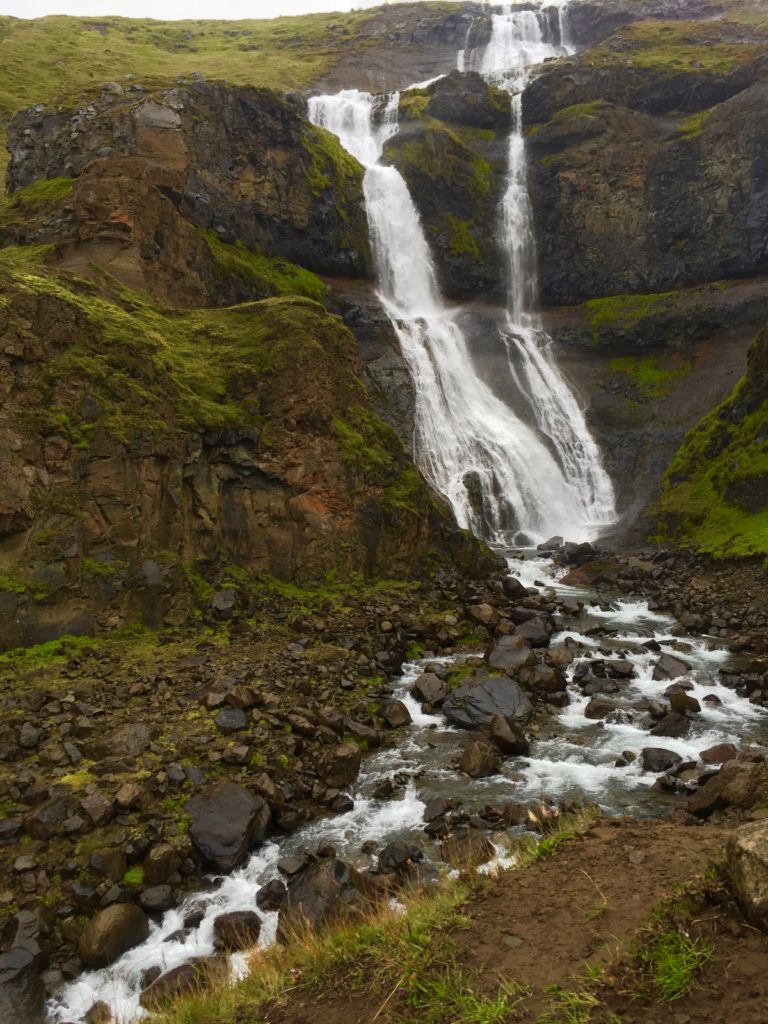 On my favorite island, there are waterfalls everywhere. I, of course, scheduled time to see the big ones like Gullfoss, Seljalandsfoss, and Skógafoss, but during my 7 days along the Ring Road I made countless stops to snap photos of waterfalls that didn't even have a sign with a name. It was like Iceland got bored of pointing out all their stunning waterfalls. I can only imagine that after awhile Icelanders were just like "oh, another one?" and simply shrugged their shoulders at a waterfall that anyone else would think was worthy of a marker on the road map and perhaps gracing the fronts of some postcards and keychains. Natural wonders like waterfalls are so commonplace in Iceland that you couldn't possibly put them all on a map. You can plan trips to Geysir, take a snaefellsnes tour, or chase the Northern Lights, but if you really want to fall in love with Iceland, you simply have to spend time exploring.
I generally hate the question, "what's your favorite destination?" because it's impossible to choose just one place. Almost every destination I have visited has been wonderful in its own way. However, when it comes to choosing a favorite island, I really have to give it to Iceland. The unexpected beauty and serenity I experienced during my time there was unforgettable and I'm already eyeing flights to return sometime soon!
2 Responses to I live in Puerto Rico, but Iceland is my favorite island