Everything You Need to Know about Traveling with Fathom Cruises
I never thought of myself as a cruise person, but Fathom Cruises claimed to focus on "Impact Travel" and that intrigued me. This company has a smaller boat, holding only 700 passengers, as opposed to the couple of thousand many other cruise boats hold. They also stay at cruise ports longer so that the passengers can actually interact with locals in a meaningful way. When I got a chance to join Fathom Travel on a cruise to the Dominican Republic, I took it.
Spoiler alert: I liked my cruise to the Dominican Republic so much that I ended up staying on the boat and continuing on to Cuba.
So, since I've done both the cruises that Fathom Travel offers, I'm here to give you the low-down on what to expect. While the format of the time on the boat is similar between the two cruises, the on-ground activities in Cuba and the Dominican Republic are very different as are the clientele that frequent each cruise.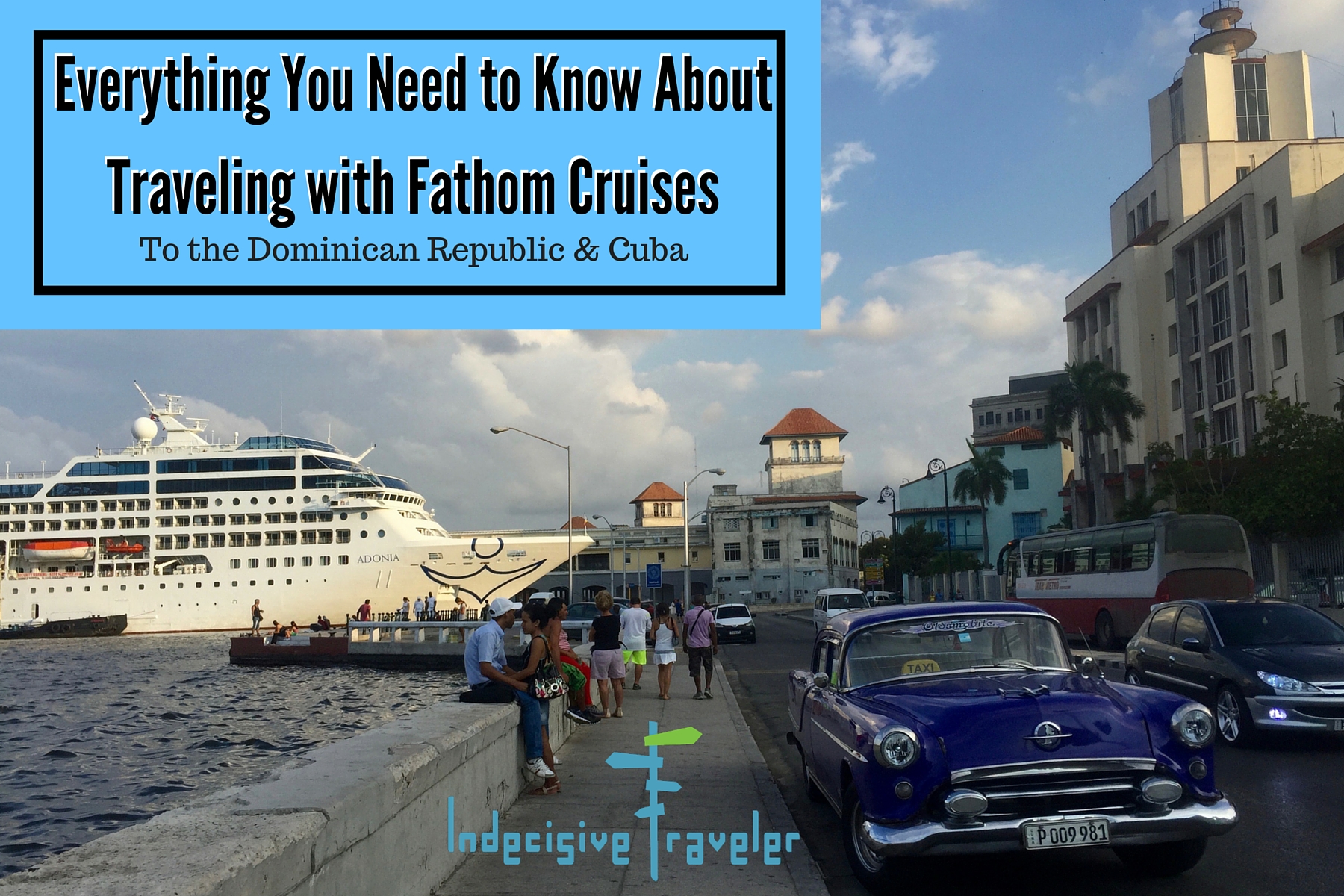 Obviously, you can get a lot of information on Fathom's site, but I'll provide some details that I would have liked to have known before I got on board.*
*Note: All prices and information were valid as of June 2016
Preparing for the Trip:
For both trips you'll want to pack extra sunscreen and laundry detergent.
You'll be getting a lot of sun exposure while on the boat (UV rays are stronger at sea!) and you'd be surprised how quickly you run out of sun screen. You can buy sun protection on the ship or in the ports, but it's pricey, so you'd be better off just packing extra.
You'll also want to bring along some laundry pods or single-use detergent packets, which you can find in the travel section at most pharmacies. The ship has a self-service laundry room that is free to use, but you have to bring your own detergent. Once again, you can purchase it on board, but it's unnecessarily expensive. Both trips are hot and sweaty, and you just might want to stay on for the second trip like I did, so laundry detergent will come in handy.
Dominican Republic
Due to the wide range of Impact Activities (more on that below), you might want to pack a few things that you wouldn't normally bring for a Caribbean vacation. Several of the Impact Activities require pants, preferably something like old jeans or work pants that you don't mind getting dirty. You'll also need a pair of closed-two shoes that are suitable for walking but also can handle large amounts of dirt. A couple of the activities involve working in the sun for long periods of time, so hats, long sleeve shirts, and plenty of sun screen are highly recommended if you want to limit your skin's exposure to the sun. I met several people on board who were upset that they hadn't packed old pants suitable for some of the outdoor Impact Activities, so bring some just in case!
Cuba
You won't be working in Cuba, but you will be walking around in the hot Caribbean sun a lot, so you'll need comfy shoes and some very breathable clothing. There are also some great nighttime dancing opportunities, both through Fathom and on your own, so an outfit complete with shoes you can dance in is a must!
Drinking on Board
I don't know about you, but when I'm traveling (or just you know, living my life) I like to know when, where, and how much alcohol I can consume. Fathom cruises allows each passenger to bring on one 750ml bottle of wine or champagne when they board the boat in Miami. However, due to some weird but wonderful loophole, this rule does not apply when re-boarding the boat in the Dominican Republic or Cuba. This means you can buy absolutely delicious rum from both of these Caribbean destinations and just carry it back on board. Unlike other cruises, Fathom does not confiscate your alcohol; you can pop those bottles whenever you want. However, they do ask that you don't lug your bottle around and set it on tables in bars where other passengers are actually paying for drinks. I think that's pretty fair. The rules about drinking are incredibly lax, and I'm wondering if, as the cruise grows, they will start cracking down on liquor bought off the boat. However, for now, I recommend you buy amazingly cheap and tasty Brugal rum from the Duty Free right outside the boat in the Dominican Republic and your rum of choice from a shop in Cuba. (Or buy it from a sketchy dude who works at the rum factory like I did. But that's another story)
Prices on board Fathom Cruises
Drinks: $5.50+ for a beer, $8.50+ for a cocktail, $12.50+ for a glass of wine, $25+ for a bottle of wine.
Salon: $29 for a traditional manicure, $45 for a traditional pedicure, and $59+ for haircuts.
Full price list:
Spa: $60 for a facial, $119 for a 50 minute massage, and $150 for 50 minute acupuncture session
Full price list:
Prices at the Ports
Dominican Republic
Currency: Dominican Pesos or US Dollars
Honestly, you can change your dollars at an exchange house in town, but it was pretty pointless. I was stubborn and changed some cash out, but every single place, from taxis to restaurants, accepted US dollars.
In the Dominican Republic, you spend 3 days parked at Amber Cove, a port built by Carnival for only Carnival and Fathom cruises. The port is about a 20-minute taxi ride from the center of Puerto Plata. Amber Cove has several tourist-priced (read: expensive)  shops and bars, as well as a water park.
Perhaps the biggest shocker was the price of Amber Cove taxis. Here's a look at the prices for popular destinations:
Puerto Plata (main plaza and surrounding area): $60USD round trip
27 Charcos: $90USD round trip
Teleférico: $70USD round trip
Each trip also includes some per-passenger fees that range from $5 -$15 extra per person.
Amber Cove vets the taxi drivers, meaning that they have insurance, clean driving records, etc. The taxis are also comfortable vans with air conditioning. The biggest plus is that once you hire the taxi to take you to a destination, they stay with you, so you won't have to hail one to get back.
That's great and all, but I like taking local taxis. Unfortunately, there isn't really a safe way to hail a cab from Amber Cove because local taxis aren't allowed to hang around the premises, so you'd have to walk along the highway until you found one. Not a great idea. You can, however, just pay a one-way fee for an Amber Cove taxi and then hail a local taxi back for about half the price, which is what I did.
Cuba
Currency: Cuban CUCs
You stop in three ports in Cuba: Havana, Cienfuegos, and Santiago de Cuba. In Havana you'll have several currency exchange options at the port. Make sure you get plenty of cash because no one accepts cards and ATMs still do not accept cards from US banks. If you need cash, ask Fathom Cruises reception. While reception cannot change your US dollars into Cuban CUCs, you can have them charge your on-board account to get some US dollars in cash, which you can then change at the ports.
Havana port is right in Old Havana, so you can literally cross the street and start exploring.You can expect to pay slightly inflated prices at restaurants and bars in Old Havana, but nothing too extreme.
Cienfuegos is just a half day, so you will not have time to change out money or do much other than the guided group tour.
Santiago De Cuba is just one day and only has two cash exchange places. You can walk around outside the tiny port, or take a cab or tour bus into the town.
Amenities on Board
Food: The Fathom Adonia has 3 places to eat: the Conservatory (buffet), The Pacific Restaurant, and The Ocean Grill Restaurant. The Ocean Grill costs $15 for lunch and $25 for dinner, while the other restaurants are included in your cruise price.
You can basically get food anytime between 7am and 12am. I'll be honest with you, it's just mediocre food. This is not a celebrity chef cruise, it's just lunchroom style buffets with food that is neither good nor bad, simply decent. The kitchen and service staff are pretty amazing though, so their friendliness kind of makes up for the overwhelmingly average food.
Wifi. Wifi is not included. In fact, wifi is pretty pricey. You can choose to pay by the minute, but at .50 cents per minute, that seems kind of insane. You can also purchase plans for 100 minutes or 250 minutes for around $32 and $62, respectively. The connection is fairly decent, but can get a bit spotty, because you are on boat in the middle of the ocean. Don't get crazy about the connection. Enjoy yourself. Also, on the Dominican Republic cruise, internet is free for the 3 days you are in the port, so you can always wait to soak up the internet once you are there. In Cuba, you're out of luck. Disconnect and explore.
Fitness: The Adonia has a pretty nice fitness center, complete with free weights, several up-to-date-cardio machines (none of those scary hotel gym relics), and weight machines. It's open daily from 6am-10pm and boasts some killer ocean views. There are also locker rooms and a sauna.
Fathom cruises offers several fitness/health workshops and classes. The workshops are free, but most of the classes cost extra, with the exception of daily mindful meditation and yoga classes. Here's a look at a schedule:
Activities on Board
What I liked about the Fathom Adonia is that each day had a decent amount of scheduled activities, but not so many that you felt like you were planning out your college class schedule. There are chats about the country you are about to visit, dance classes, wine & paint nights, movies under the stars, and plenty of live music.
My favorite? Live music with giant Jenga:
The Adonia also has an absolutely incredible library where I spent a good amount of my time. The book selection was pretty impressive, boasting Victorian classics, Caribbean history novels and atlases, contemporary fiction, biographies, and young adult novels. You can check out books, grab a board game, or just read and enjoy the atmosphere.
Dominican Republic versus Cuba cruise vibe
There is a very noticeable difference between the environment on the boat for each cruise. The Dominican Republic cruise is mostly younger people, so you'll see a lot more people hanging out by the pool, drinking, dancing, and staying up late. The Cuba cruise clientele is generally much older, so the vibe is a lot more reserved and quiet. After making amazing friends on the DR cruise, I have to admit I felt a little awkward and lonely at first being on a cruise full of retirees on the way to Cuba. However, the crew was so fantastic that I ended up having a great time hanging out with them.  However, it's worth mentioning that on the Dominican Republic cruise it wasn't uncommon for people to travel solo and simply make friends on board. During the Cuba cruise, people constantly asked me if I was alone, because I am fairly certain I was the only solo traveler.
On Ground Activities
I'll obviously be writing about all of this in more detail, but here are the basics.
Dominican Republic
In the Dominican Republic, the focus is on "Impact Activities" which you sign up for before you get on the boat. Fathom partnered with existing organizations in the DR and asked them what they could help with, and Impact Activities were born. There are several activities such as teaching children English, planting trees, creating water filters, and even putting concrete floors into homes that previously lived with dirt floors. You can sign up for 1-6 activities, depending on how much time you want to reserve for exploring on your own. This was my favorite part about the Dominican Cruise. You don't want to miss out on this experience.
Cuba
Due to visa restrictions, there is no volunteering in Cuba. US citizens still have a lot of limitations on visiting Cuba, so you can choose to either do a People-to-People Exchange with Fathom or a Self-Guided People-to-People. Fathom does a great Q&A session on board to make sure you understand the difference, but it's basically either a group tour, self-guided exploration, or a combination of the two. The most important thing to note is that if you do self-guided, you'll be in charge of documenting your activities and keeping those records for 5 years after your trip, in accordance with the visa regulations.
Travel with Fathom Cruises. Just do it.
Again, I never thought I'd fall in love with a cruise, but Fathom Travel really won me over. I had avoided traveling to the Dominican Republic in the past because it can be difficult to find a way to actually interact with locals instead of staying on a resort. Fathom does an incredible job facilitating real world interactions while also giving travelers a chance to give back. As for Cuba, traveling to Cuba with a US passport is so new that the cruise ended up being the perfect way for me to get a quick look at the country. I loved both of my trips so much and already miss hanging out on the Fathom Adonia!
Save on your booking
Full disclosure, this is an affiliate referral link, but it also saves YOU money while I get a bit of money to help me keep traveling, so it's a win win, right?
You can save $50-$150 off your booking to the Dominican Republic cruise by using this link. As of right now, I don't have any discounts for the Cuba cruise, but I will keep you updated!  Pro tip: If you want to go on both cruises, book the DR cruise first and plan for 2 weeks on board. Fathom offers heavily discounted on-board booking deals so you can either do what I did and stay on the boat to go directly to Cuba, or book your cruise for a later date. The Cuba cruise is more expensive, so you'd save more money if you did the DR cruise first and booked the Cuba cruise on board.
19 Responses to Everything You Need to Know about Traveling with Fathom Cruises