Hisbiscus Enchiladas Recipe
During my stay at Rancho La Puerta, in Baja California, Mexico I had the privilege of taking a cooking class at La Cocina que Canta with visiting chef, David Cohen. You may have caught my other post about this experience, which included a recipe for a delicious Watermelon Gazpacho and a Quinoa Salad.
This recipe is for some incredible Hisbiscus Enchiladas with Chipotle Sauce, the chipotle sauce recipe can be found here.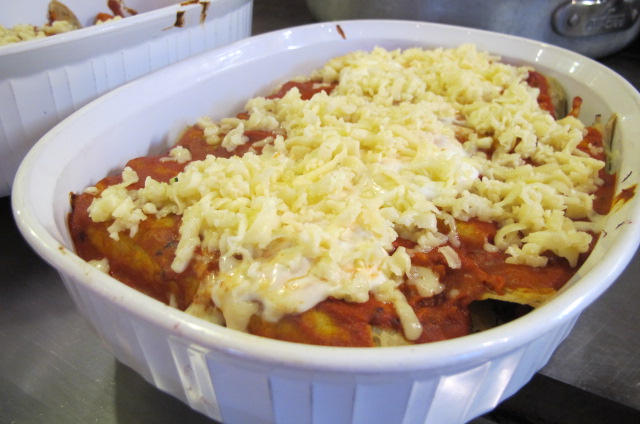 Keep in mind that this was made somewhere where the majority of this stuff grows in a garden right outside the kitchen. Since most of you probably don't have access to that kind of stuff, after I give the full recipe as Chef Cohen designed it, I'll give you some suggestions for substitutes and omissions.
Enchiladas Recipe and Ingredients
2 1/2 cups (4 ounces) dried jamaica flowers
4 tablespoons (1/2 stick) butter (or similar amount of olive oil)
1/3 cup finely diced onion
1/2 cup finely diced zucchini
1/2 cup finely diced bell pepper (combination of red, yellow, and green)
Salt, pepper
1/2 cup canola oil
1 1/2 cups olive oil
12 corn tortillas
3/4 cup Chipotle sauce
3/4 cup crumbled queso fresco
For the Non-Chefs
I know that ingredient list may look a bit ambitious for those of you who, like me, are not willing to run all over town to buy crazy stuff. Here's what I suggest:
Either order the jamaica flowers online and keep them stored away for such an occasion, or omit them completely. They do add a nice taste, but their absence won't ruin your enchiladas.
Feel free to use frozen, pre-chopped veggies. Obviously, fresh is always better but life is hard so you don't have to beat yourself up about skipping the fresh vegetable business.
If you don't feel like making the chipotle sauce from scratch, just buy some. You can also just use copious amounts of sauce cream and hot sauce.
Queso fresco can usually be found at international grocery stores or even places like Trader Joes or WHole Foods, but I would not judge you if you just bought normal shredded cheese.
Preparation Instructions (for the ambitious chefs)
1. In a medium saucepan, combine the hibiscus flowers with 4 cups of water over high heat and bring to a boil. Reduce the heat to a simmer, and simmer the flowers for 30 minutes to rehydrate completely. Strain the flowers, then allow them to cool to room temperature. Finely dice and set aside.
2. In a large sauté pan, melt the butter over high heat and add the onions. Sauté, stirring frequently, until the onions are translucent. Reduce the heat to medium and add the diced flowers, zucchini, and bell peppers, stirring occasionally and cooking until thoroughly warmed. Season with 1 teaspoon salt and 1/4 teaspoon pepper. Set aside in a warm place.
3. Reheat the chipotle sauce in a medium sauté pan over medium heat until warmed, stirring frequently. The warmed sauce should be pourable; if too thick, add just enough water to thin to the desired consistency. Keep warm.
4. To assemble the enchiladas, spoon 1/2 cup filling into the center of each tortilla, then roll the tortilla to firm an enchilada. Place two enchiladas onto a plate for each serving, and divide the warmed chipotle sauce evenly over each serving, and sprinkle over 2 tablespoons queso fresco to taste. Serve immediately.
Preparation Instructions (for the non-chefs)
1. Skip all this flower nonsense.
2. Sorry guys, you're going to have to do some work here. Refer to #2 in the "ambitious chef" section above.
3. Skip all this chipotle sauce nonsense, unless you bought some, then toss that shit in a pan and heat it up. Otherwise, crack open your sour cream and hot sauce.
4. Shove those veggies from step #2 into a tortilla. Top them off with sauce and cheesy goodness.
And there you have it, a tasty dish for both the ambitious and lazy chefs! Buen provecho!