Culebra Island Ferry and Flamenco Beach
Although Culebra is a separate island, it is part of Puerto Rico. The Culebra ferry runs regularly to shuttle locals and tourists between the small island and mainland Puerto Rico. Oddly enough, the absolutely essential Culebra ferry does not have its own website or any way to verify schedules or prices online. While plenty of tour companies will offer tours and services once you arrive in Culebra, you'll likely end up paying more than you need to, and you'll still have to board the same ferry as everyone else (unless you take a small plane from the Ceiba airport on the mainlaind). It's actually really cheap and simple to visit this island, which is home to one to the top 10 most beautiful beaches in the world, Flamenco Beach. I highly recommend spending at least a day on the gorgeous beach, so here's what you need to know about the Culebra ferry.
Culebra Ferry Location
The ferry terminal is located in Fajardo, Puerto Rico. Fajardo is about 45 minutes outside of San Juan, so if you are not staying in the area, be prepared to leave your hotel early. Honestly, if you plan on taking an early ferry, it's usually easier to spend the night before in Fajardo. I happen to live in Fajardo, so it was simple for me, but it's a beach town worth visiting. Seven Seas beach in Fajardo is gorgeous, and nearby Luquillo beaches are nice as well. Puerto Rico is lousy with gorgeous beaches, so take your pick.
Culebra Ferry Schedule
It's always best to double check the schedule at the ferry terminal, as they can change it whenever they want. I recommend passing by the night before to ensure you have the times right. This photo is from the terminal as of September 2016: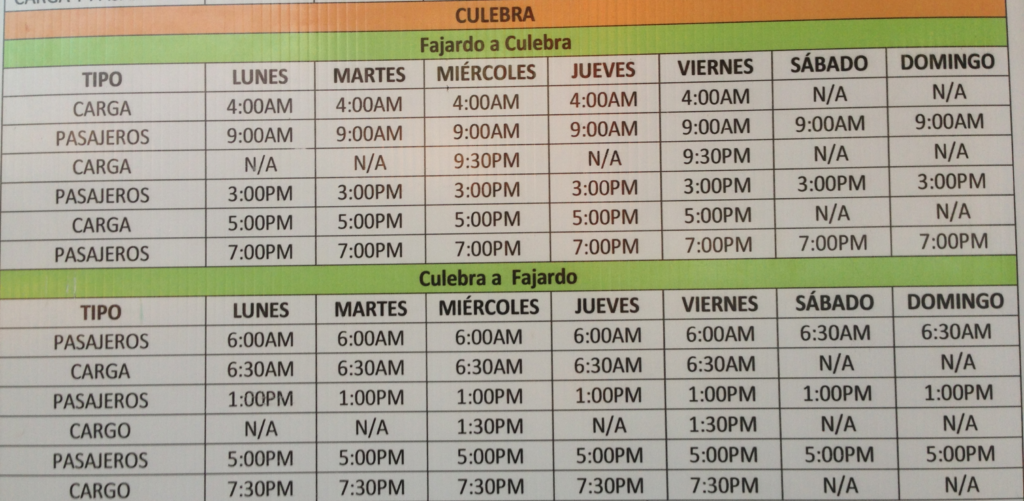 "Pasajeros" are the passenger-only ferries. You'll notice there is a "Fajardo a Culebra" and a "Culebra a Fajardo" section; make sure you are looking at the right one! Pedro made the mistake of looking at the Culebra schedule, so we thought our ferry was leaving Fajardo at 6:00am. Turns out the first ferry from Fajardo to Culebra is at 9am. It was a pretty unpleasant discovery when we got in line at 5:00am. For those of you who are rusty on your Spanish days of the week, here's a quick translation:
Fajardo to Culebra Passenger ferry departures
Monday-Friday: 9:00am, 3:00pm, 7:00pm
Saturdays and Sundays: 9:00am, 3:00pm
"Carga" is the cargo ferry for anyone bringing large things such as cars. You have to make an advanced reservation to bring large cargo. The reservations generally have to be made weeks in advance. You can make the reservations at the terminal or by calling (787) 494-0934. If you don't speak Spanish, you'll probably have better luck just going to the terminal. Unless you plan on spending several days exploring Culebra, you probably won't need a car. You can rent jeeps, scooters, and even street-legal golf carts to get around. There are also shuttles, which I'll explain in the Flamenco Beach section.
When to arrive
I cannot stress this enough: you need to get to the terminal early. There is one boat. When it's full, you're out of luck. Keep in mind that all the locals from Culebra use this as their connection to the mainland. The ferry has even been known to stop selling tickets before the boat is actually full just to prevent too many tourists from flooding the small island at once. If you are hoping to get on the 9:00am ferry, I recommend getting there around 6-7:00am. I got there at 5:00am and there were already people in line.
Culebra Ferry Prices & Tickets
Here's the great news: the Culebra ferry is cheap! The bad news? You cannot buy tickets in advance. Tickets for each ferry are sold the day of and only at the ferry terminal. This is why you have to arrive so far ahead of the departure time! You can, however, buy roundtrip fares for the same day. If you are just doing a day trip to Culebra, this is essential. The last ferry from Culebra leaves at 5:00pm, so if you don't buy ahead of time, you'll basically have to stand in line for tickets again about 3 hours after you arrive.
Culebra Ferry Prices*
*As of September 2016
Prices are for one way tickets.
Regular passenger: $2.25
Children under 3: Free
Children 3-11: $1.00
Senior citizens (60-74): $1.00
Senior citizens (75+): Free
Handicapped or Medicare: $1.00
Additional costs
If you want to bring a cooler for the day, you'll be charged $1 extra each way. The same goes for beach chairs, boxes, suitcases, etc. If it's larger than a beach bag or backpack, you might get charged an extra dollar or so. Keep in mind that Culebra is an island off an island, so everything has to travel quite a ways to get there, which means the prices are higher than on mainland Puerto Rico. When my boyfriend and I went for a day, we packed a rolling cooler full of essentials like water, sandwiches, and champagne. (Hey, it was our anniversary, champagne was definitely essential). Glass is technically not allowed on the beaches, but…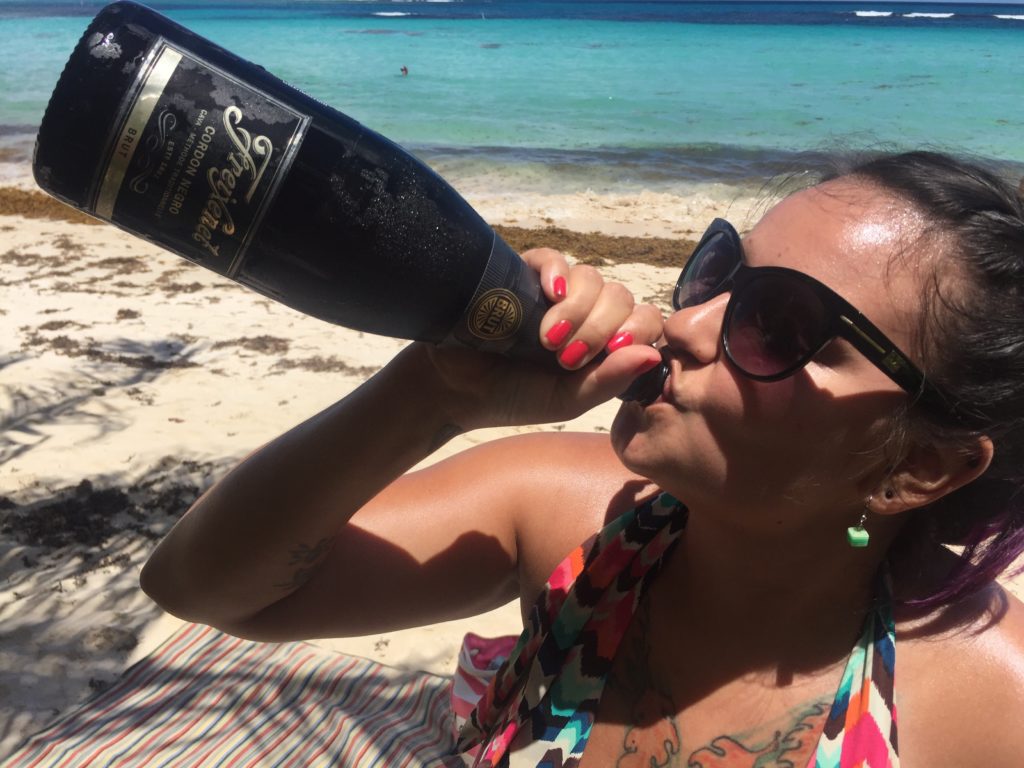 Honestly, had we properly thought it through, we would have just stored the champagne in something plastic, but hey, this photo wouldn't have been as great with an unmarked plastic bottle, am I right? Don't worry, I made sure this bottle was properly disposed of and no beachgoers were harmed in the taking of this photo or thereafter. Note: We took this photo under the cover of palm trees because we were warned by a not-very-official looking dude that he "had guys all over the beach" ready to pounce on anyone who was carrying glass. But once again guys, do as I say, not as I do. Pack plastic and cans and clean up after yourself!
How to get to Flamenco Beach from the Culebra Ferry
The main attraction on Culebra is that world-renowned beach I mentioned earlier, Flamenco beach. The beach is only about 5 minutes from the ferry terminal and there are a variety of options for getting there. The easiest and cheapest way is to just hop on one of the shuttle buses that park right across from the terminal. The ride is $3 each way. You can't pay for the ride back ahead of time, so make sure to set aside some cash for the return.
Once you get off the ferry, you'll be assaulted by people trying to rent you jeeps, scooters, and golf carts. Again, unless you are staying for a few days, you probably don't need a car. The golf carts, on the other hand, are a nice choice if you are with small group. As of September 2016, the prices were around $35-40 bucks to rent a golf cart for the day, so if you are traveling in a group of 4, you could have a private ride for just a little bit more than the cost of the shuttle. Just keep in mind that Puerto Ricans are aggressive drivers. My shuttle driver intimidated and all but forced a couple golf carts off the road, all while cackling with joy.
Other Things to Know
The duration of the ferry ride is about an hour and a half.
The ride can be choppy. If you get motion sick, take something before you get on. I stupidly tried to power through and ended up desperately popping Dramamine, chewing anti-nausea ginger gum, and slapping on "Sea bands" 15 minutes into the ride.
The top of the ferry isn't always open. This was pretty upsetting for me, because I wanted to take photos. I also wanted to breathe in the fresh sea air in hopes of easing my motion sickness. No such luck. If you want photos, or at least a view, you'll have to battle it out for a window seat.
There are very few services at Flamenco beach. You'll see a couple kiosks selling overpriced drinks, pizza, and fried foods at the entrance to the beach, but nothing else. You either need to bring what you need for the day to Culebra, or buy supplies at the stores near the terminal.
Bring soap and toilet paper. There are several bathrooms on the beach, but almost none of them have soap or toilet paper.
You can camp on the beach. If you want to stay for more than a day, you can bring a tent and set it up right behind the beach on one of the camp grounds.
There are a couple of abandoned WWII tanks just hanging around the beach. Go climb on them. 
The clear waters make Flamenco an excellent place to snorkel. It's not uncommon to see sea turtles!
The UV rays on Culebra are intense. Bring sunscreen and reapply often.
I absolutely adored Flamenco Beach. It was gorgeous and incredibly relaxing. The time to leave for the last ferry off the island came all too soon. I'll definitely be going back!
42 Responses to Culebra Island Ferry and Flamenco Beach