Best Bookstores in New Orleans French Quarter
I never thought New Orleans would be a heaven for a booknerd, but I could not have been more wrong. Just outside the drunken streets full of bright colors, loud noises, and partying, there is a treasure trove of new and used books just waiting to weigh down your suitcase.
After New Orleans, I made a pact with myself to always travel with an extra duffel bag folded up in my bag just for any books I might decide to buy. It's a good rule for someone like me who always says "I won't buy more than one or two" and then comes home with 10 new books.
I bought books from 5 different places while in New Orleans, but one was an academic conference that my boyfriend was speaking at, so we'll skip that one.
All of the bookstores had charm and something special, but I'll rank them saving my favorite for last.
The Best Book Stores in New Orleans French Quarter
#4 Crescent City Books
Crescent City Books is located at 230 Chartres Street and was the first bookstore I happened upon. I'd say this bookstore wins for "View from the stairs"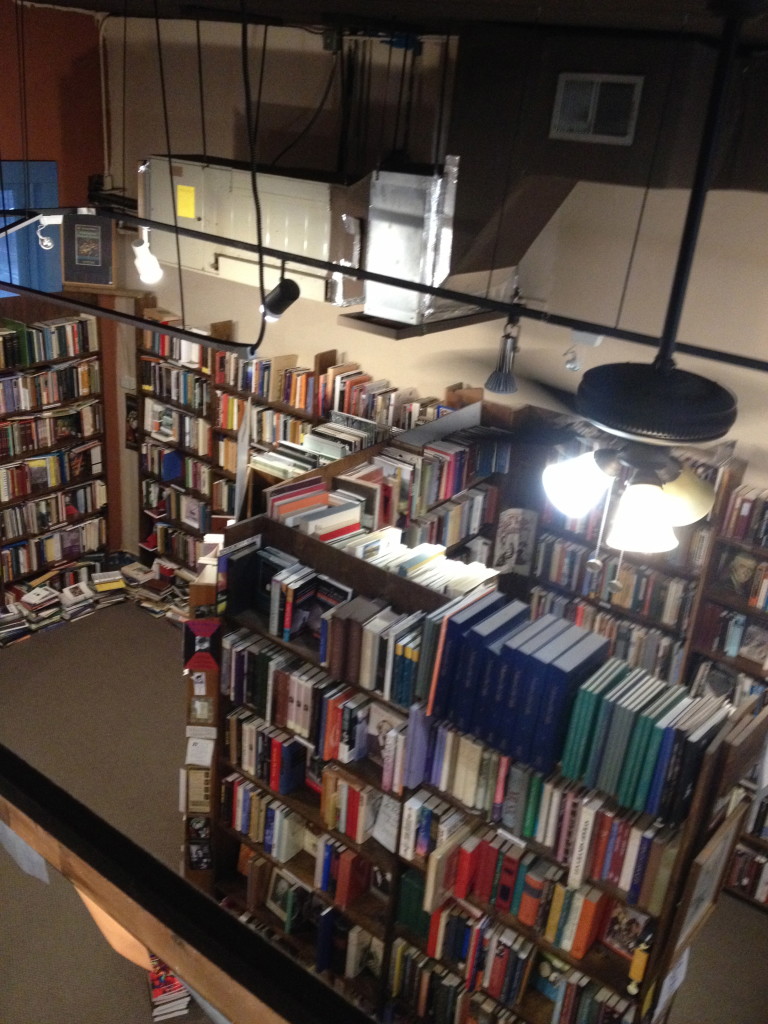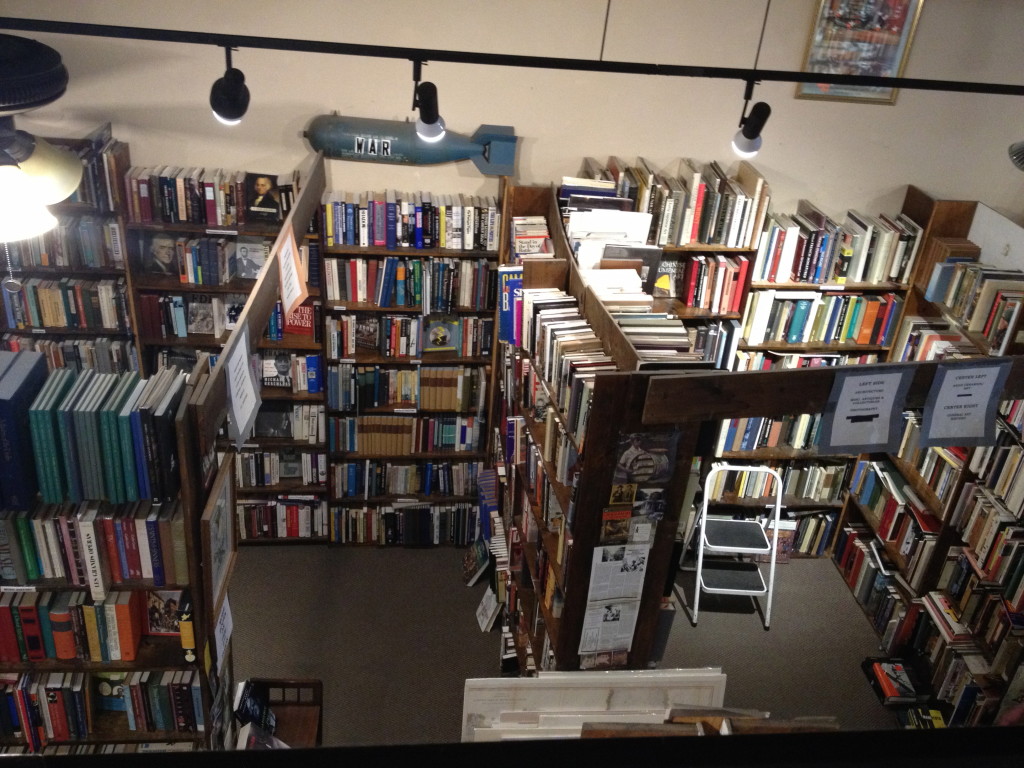 While this store looked lovely, it didn't have that "let's get lost and hang out for 4 hours" vibe that I so treasure in used bookstores. I also found that the types of books that dominated the shelf space weren't exactly my style. They had a lot of paperback mysteries, religious studies/religion, and science fiction, but even after scouring the fiction section for some time, I only came out with one book.
I purchased "Adios, Happy Homeland" by Ana Menedez from a very hipster cashier clerk. The store definitely had more of a young-hipster vibe than anything else. Still worth perusing!
#3 Faulkner House Books
Faulkner House Books is kind of a must-see for any literary nerds who enjoy William Faulkner. The bookstore is located at the very spot that William Faulkner wrote his first novel, "Soldier's Play" in 1925. Of course, it's location at 625 Pirate's Alley in the French Quarter also used to be part of the yard and buildings of the French Colonial Prison. Pretty interesting history for a tiny little bookstore!
I loved that this bookstore was tucked into a little alley, almost as if it didn't want to be found, which is, of course, not true at all because this place is incredibly popular.
This bookstore dealt mostly in new and classic/vintage books, so be ready to shell out some cash if you pass through these beautiful doors. I personally could have gone broke just from the re-published children's classics section.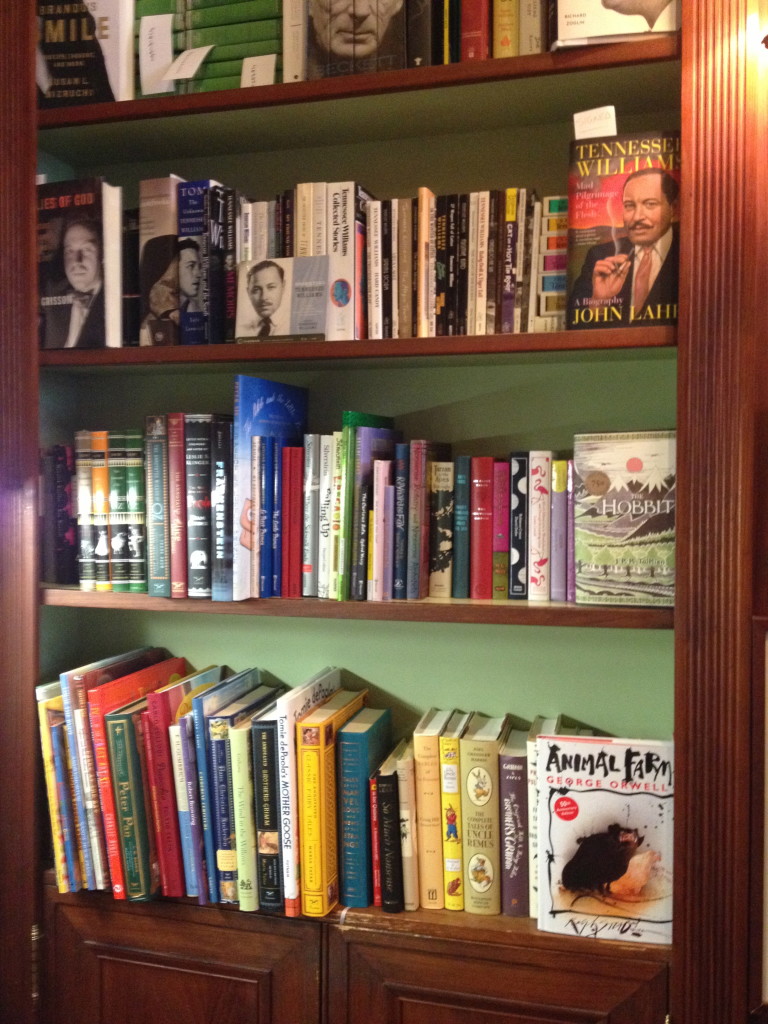 I made it out of the store with just one purchase, my only brand-new book purchase of the entire trip, "Read Aloud Poems" edited by Glorya Hale. It's a collection of 120 poems by famous authors for parents to read to children. No, I do not have children, but I do collect children's books and I still tutor children on the side. I happened to have lost 50 of my most beloved children's books in the mail when I moved to Puerto Rico, so I was happy to get something new to start my collection again.
#2 Arcadian Books
I found Arcadian Books completely by accident. I left my apartment determined to go check out some boutiques and find a cute top. Within 5 minutes I found this bookstore and spent all the remaining shopping time I had lost inside its stacks of books. I have no regrets other than I didn't photograph it.
Remember how I said I wished that Crescent City books had more of a "get lost and hang out" feel? Well Arcadian books definitely had that. The owner sat outside chatting with a friend while I, along with several other shoppers, squeezed through the stacks of books, climbed on step stools, and crouched on the floor.
Arcadian Books had an impressive selection of Foreign Language books, in French, German, and Spanish (and I think I spotted a bit of Italian in there too!). When I got to the Spanish section and started looking at the authors, I literally squealed and clapped.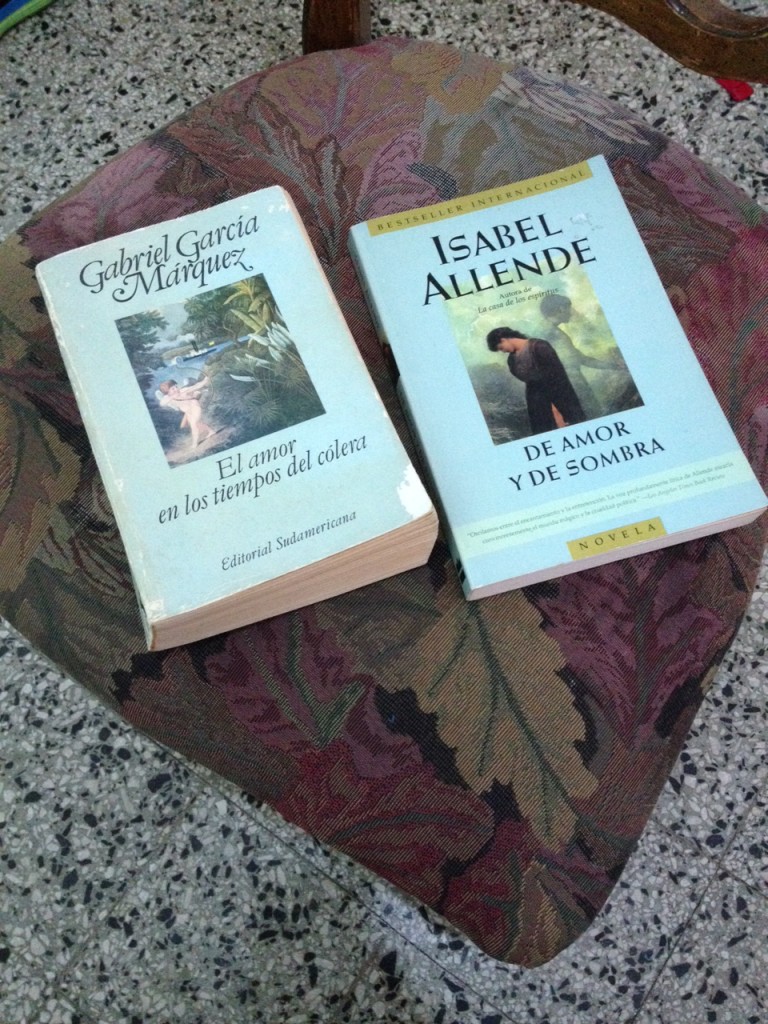 I have been looking for a copy of "El amor en los tiempos de cólera (Love in The Time of Cholera) by Gabriel Garcia Marquez for ages. I found it, and it was only $7. Amazing. I also picked up "De Amor y De Sombra" by Isabel Allende, another favorite author of mine. Honestly, if this hadn't been my last bookstore, I probably would have picked up several more books from the Spanish literature section. Alas, this was towards the end of my trip and I was getting very worried about how I was going to shove all these books into my carry-on.
#1 Dauphine Street Books
Dauphine Street Books was hands-down my favorite. I told the owner that, and he said "I'm sure you said that to all the other bookshop owners too." I can only hope that someday he reads this article and knows I was not joking. Of course, I cannot imagine this guy ever getting on the internet to do anything other than hunt down a book for his collection. He literally lives above the shop, so books are very much his life, and it is a life that I so desperately want.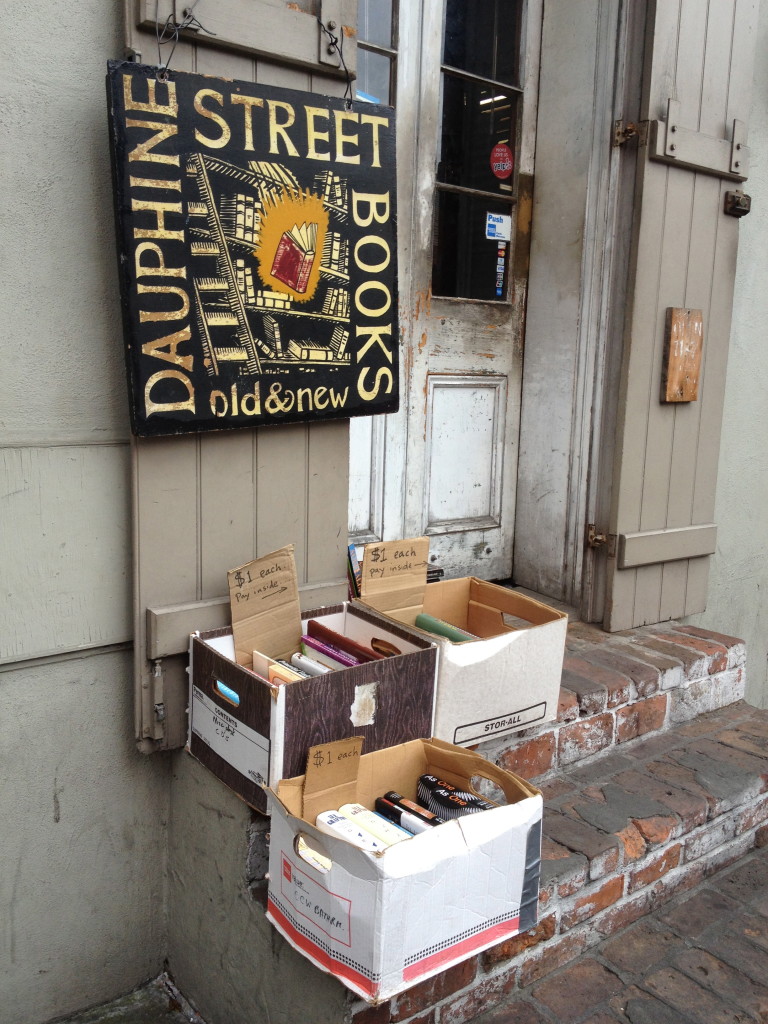 I spent a very long time in this maze of books, navigating the dark stacks and randomly grabbing at books that looked interesting. The owner seemed to know exactly where everything was and had heard of basically every author ever. Dauphine Street Books is an excellent mix of expensive leather bound beauties and paperbacks that are looking for a good home. The owner was also really understanding about budgets and was happy to show you cheaper versions of a book if he had them.
I wanted to buy a suitcase worth of books at this store and when I lamented my lack of suitcase space the owner said, "you can always throw out your clothes. Books are better anyway." Well said, sir. Very well said indeed.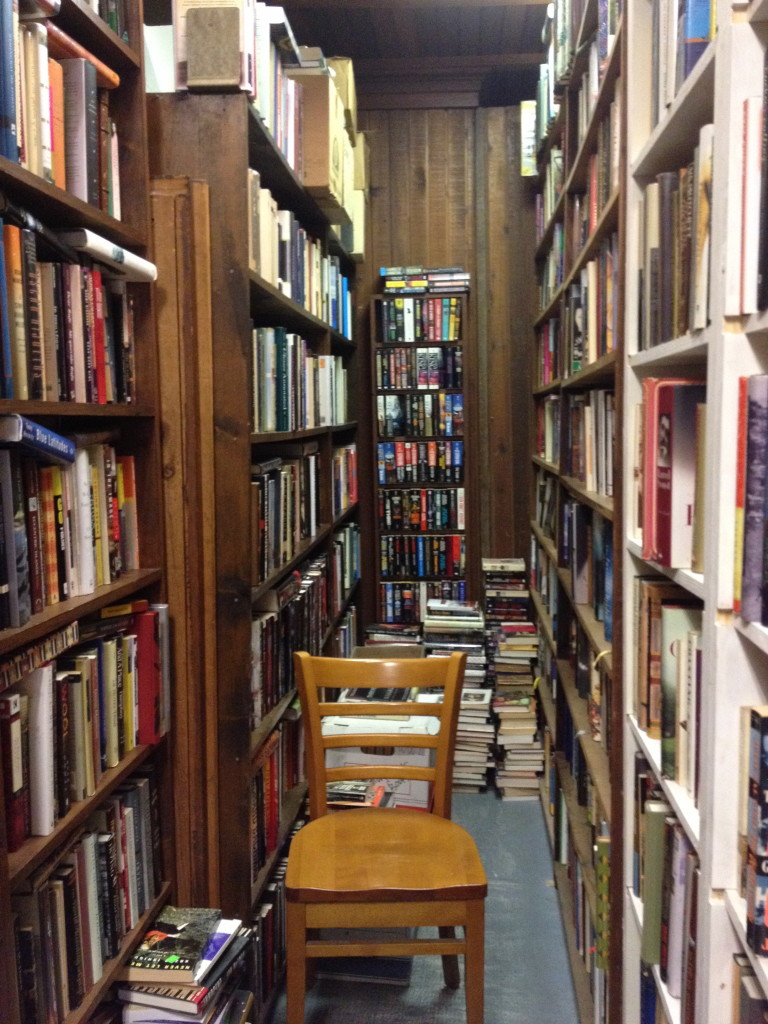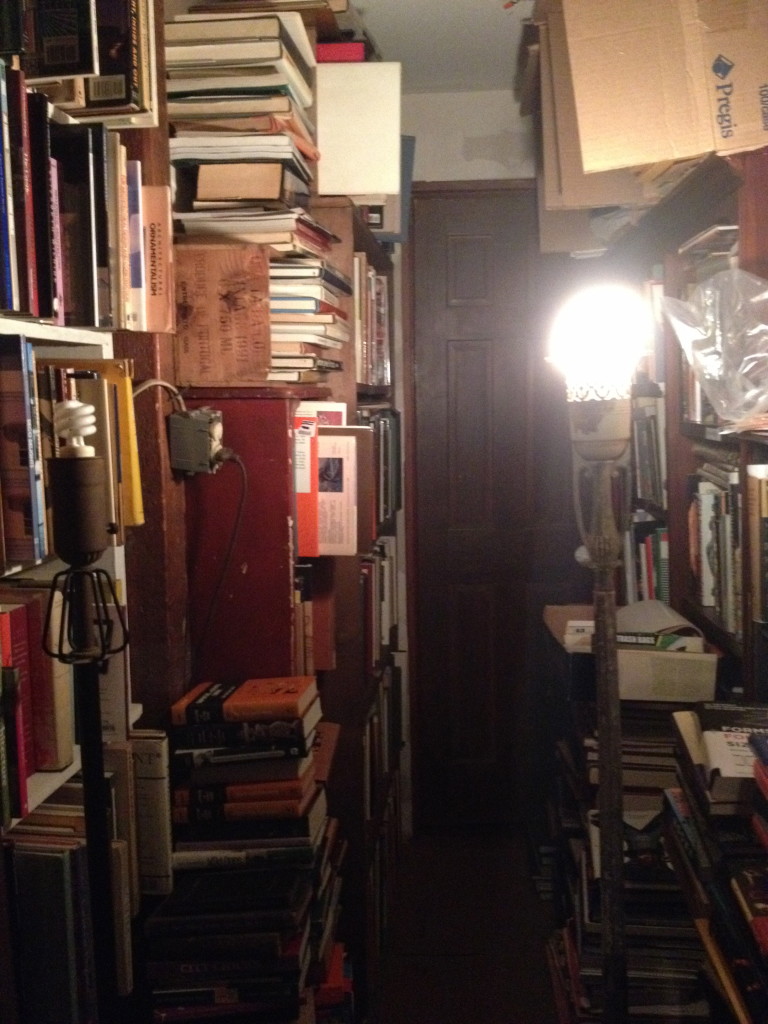 I ended up with a copy of "The Beacon Best of 2001: Great Writing by Women and Men of All Colors and Cultures" edited by Junot Diaz, an incredible cloth-bound hardback of "The Devils of Loudun" by Aldous Huxley, and a lovely hardback of "Milo and the Magical Stones" by Marcus Pfister.
Bring your money. Buy all the books
Seriously, if you go to New Orleans, bring plenty of money and luggage space. I love drinking and partying and all, but parties end. Books are forever.
When I moved to Argentina in 2010 and started focusing more on traveling, I downsized my life quite a bit. I try not to keep too many material things, but one thing I will never stop collecting is books. Can't stop, won't stop!
One Response to Best Bookstores in New Orleans French Quarter