Avion Tequila Pairing Dinner at Vida Mexican Kitchen y Cantina
Late last year, I had the privilege of being one of the first people in the doors of the brand new Vida Mexican Kitchen y Cantina. You can read all about how impressed I was with the food and restaurant in my review, Holy Guacamole and Other Such Deliciousness. They recently had their first of many Tequila Pairing Dinners, sponsored by Avion Tequila, and I was once again very pleased to be invited. The dinner featured all off-menu items. These dinners allow the chefs to get extra creative. There were hors d'oeuvres, a first course, fish course, meat course, and dessert.
Hors D'Oeuvres
The night started out with some of Vida's infamous guacamole. I tried my best not to fill up on it. I'm glad I saved some room, because some of the little starters ended up being overall favorites from the night. The finger foods included Carnitas Egg Rolls, Shredded Beef Jalapeño Relleno, Mini Papas Picasos Tacos, and Spiced Mixed Nuts.
The Carnitas Egg Roll was by far my favorite. It was so good, that I hunted down a waitress to make sure she passed by with seconds. The mini tacos were as cute as they were tasty, it was a nice way to have a sample of the potatoes without filling up. I enjoyed the stuff jalapeño, which was also topped with queso fresco, but it did not photograph well. You also have to eat it very carefully to make sure you didn't just rip the entire jalapeño out of the breading.
First Course
The first course was a Creamy Chicken Poblano Soup, paired with a refreshing margarita.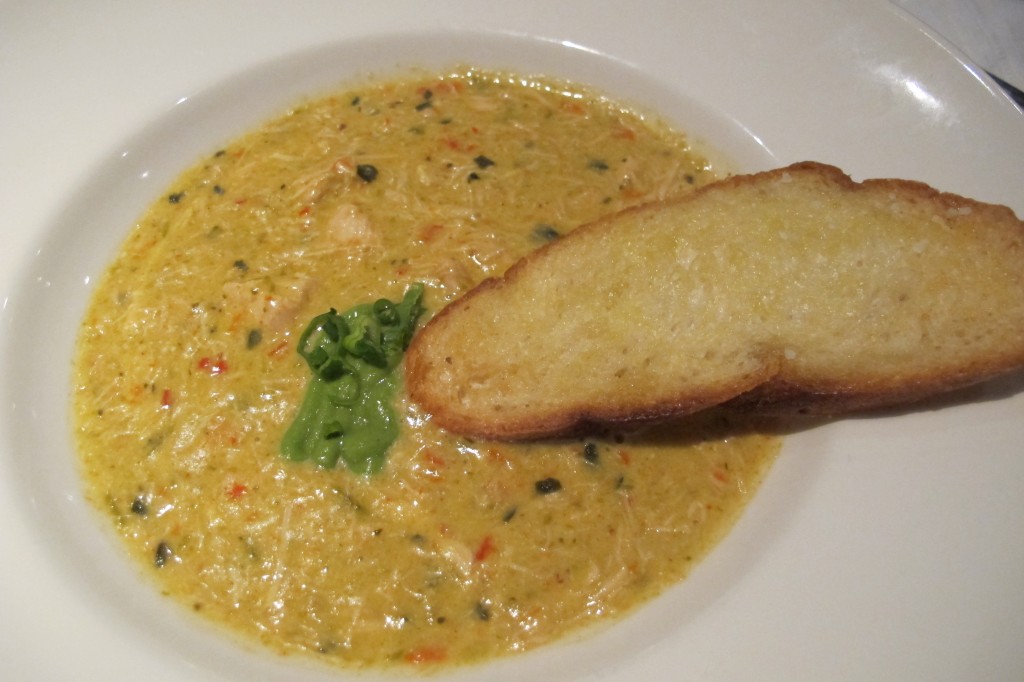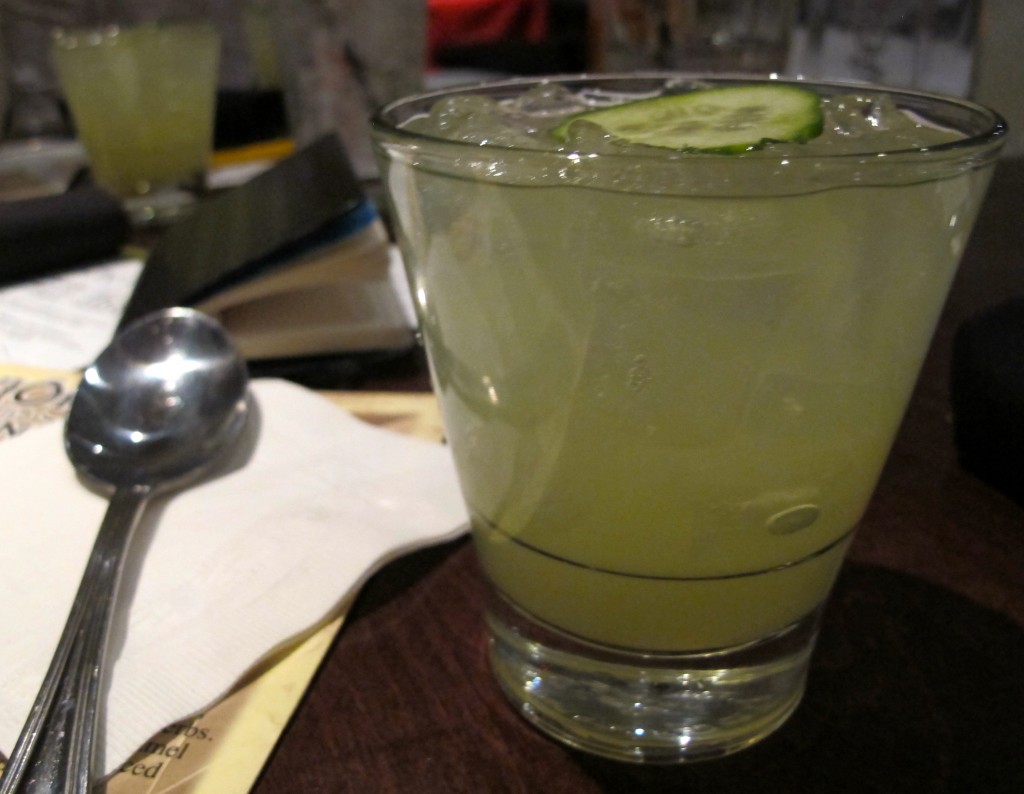 Honestly, the entire dinner could have consisted of these two things and I would have left happy. The soup was made with a grilled bolillo and avocado puree. It was hearty, creamy, and seasoned just right. The toast was the perfect touch, as it allowed me to soak up every last drop.
The margarita may have been the best one I have had outside of Mexico. The representatives from Avion Tequila talked about how every one of us has some horror story involving choking down some terrible tequila shots and/or margaritas. Avion strives to make tequila that is pleasurable. They certainly nailed it with this drink. The extra cucumber flavor added a delightfully fresh taste. I momentarily forgot there was a snow storm going on outside and felt as if I was back in Mexico.
The Fish Course
Next up was Chili Rabbed Diver Scallops, paired with a shot of Avion Silver.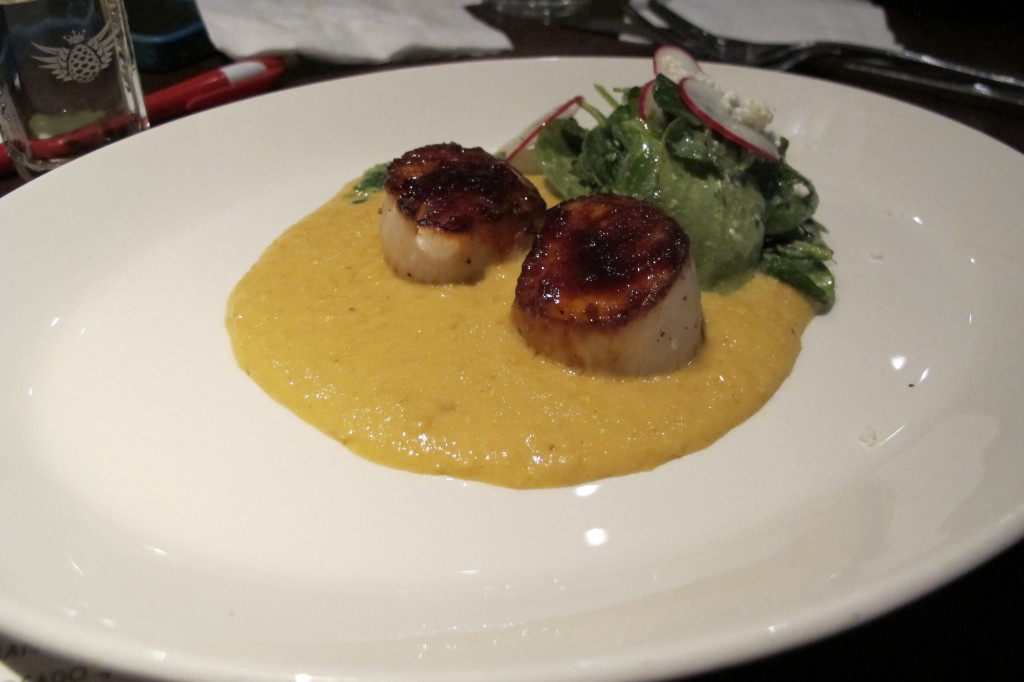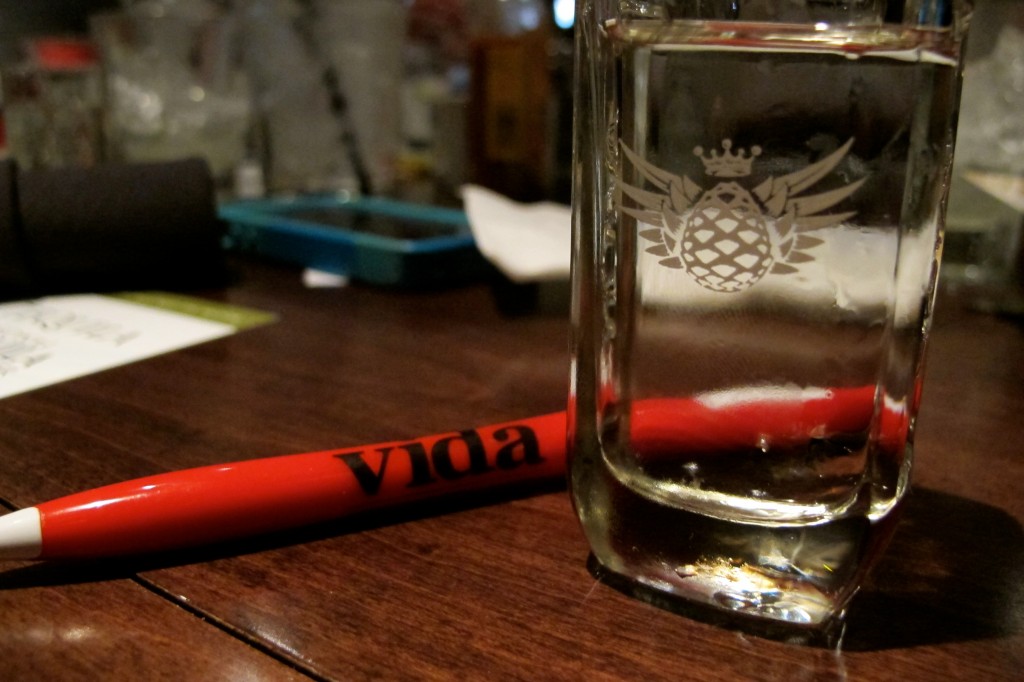 The scallops were served on top of a sweet corn puree with a watercress and radish salad. I thought the watercress paired perfectly with the well-seasoned scallops. The Avion Silver did not disappoint either. Normally, I take my tequila shots as quickly as possible. The goal is generally to get it into my body and away from my taste buds. This tequila, on the other hand, was smooth enough to sip. I chose to be a bit more refined this evening, and sipped on my shot throughout the course.
The Meat Course
This course consisted of Roasted Leg of Lamb, paired with Avion Reposado.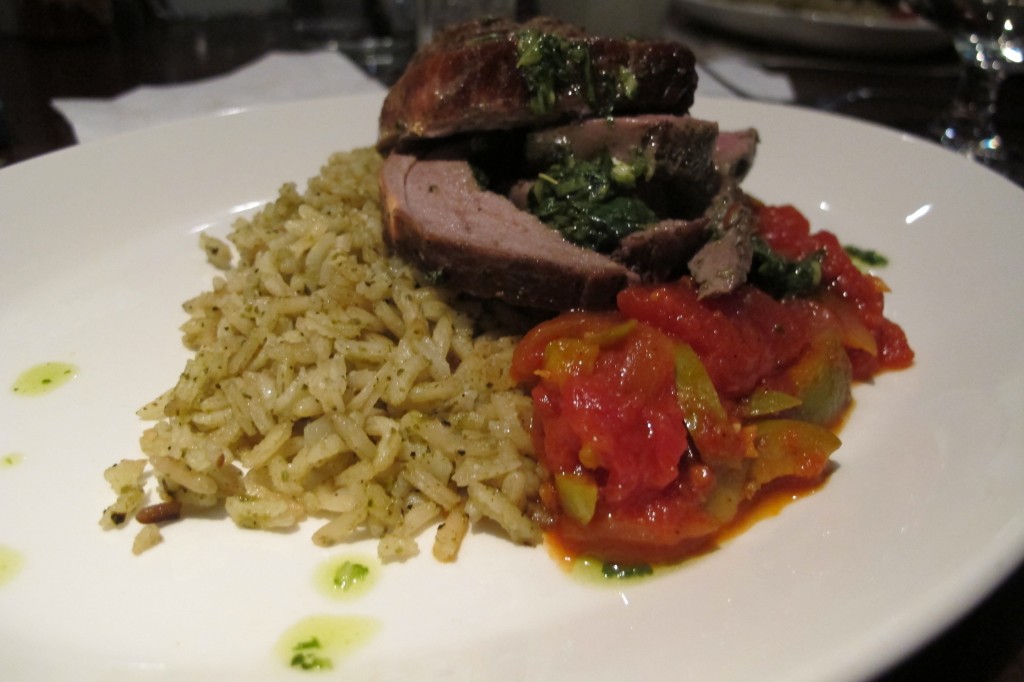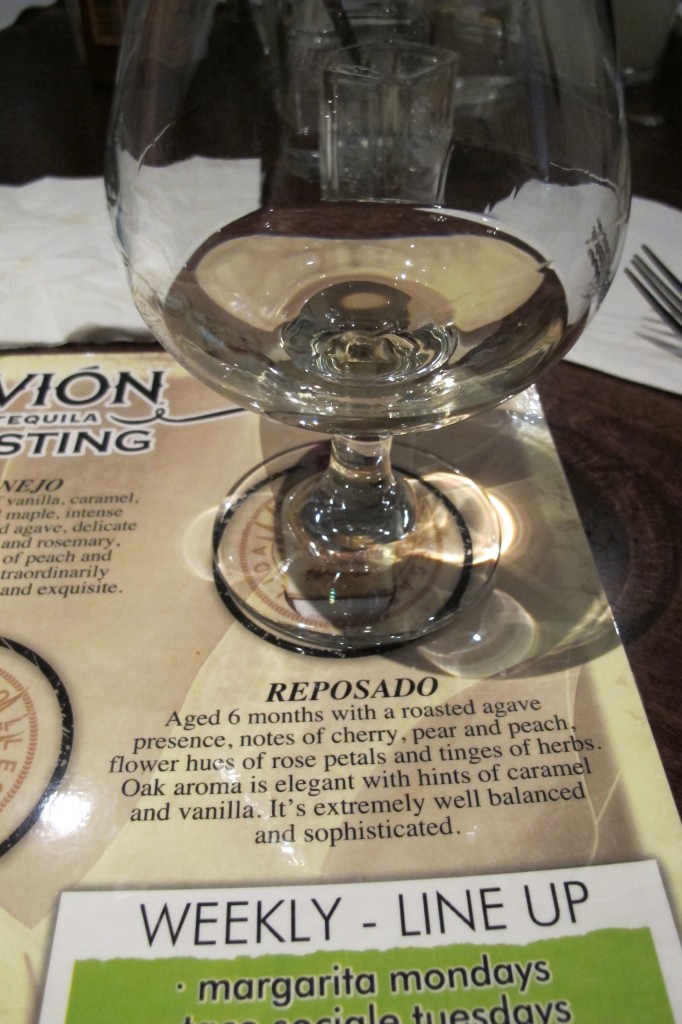 I'm not a huge fan of red meat, so I wasn't all too excited about this course. To be completely honest, even after tasting it, I was not very impressed. This was the only dish I did not finish. I checked with my tablemates and found that I was not the only one. I did, however, finish my Reposado. While the strong, aged tequila is not my drink of choice, I could definitely appreciate how well made it was. It wasn't as easy to sip as the Silver, but I think that is more due to my personal tastes than anything else.
Dessert
Dessert was a Coconut Rice Pudding, paired with Avion Añejo.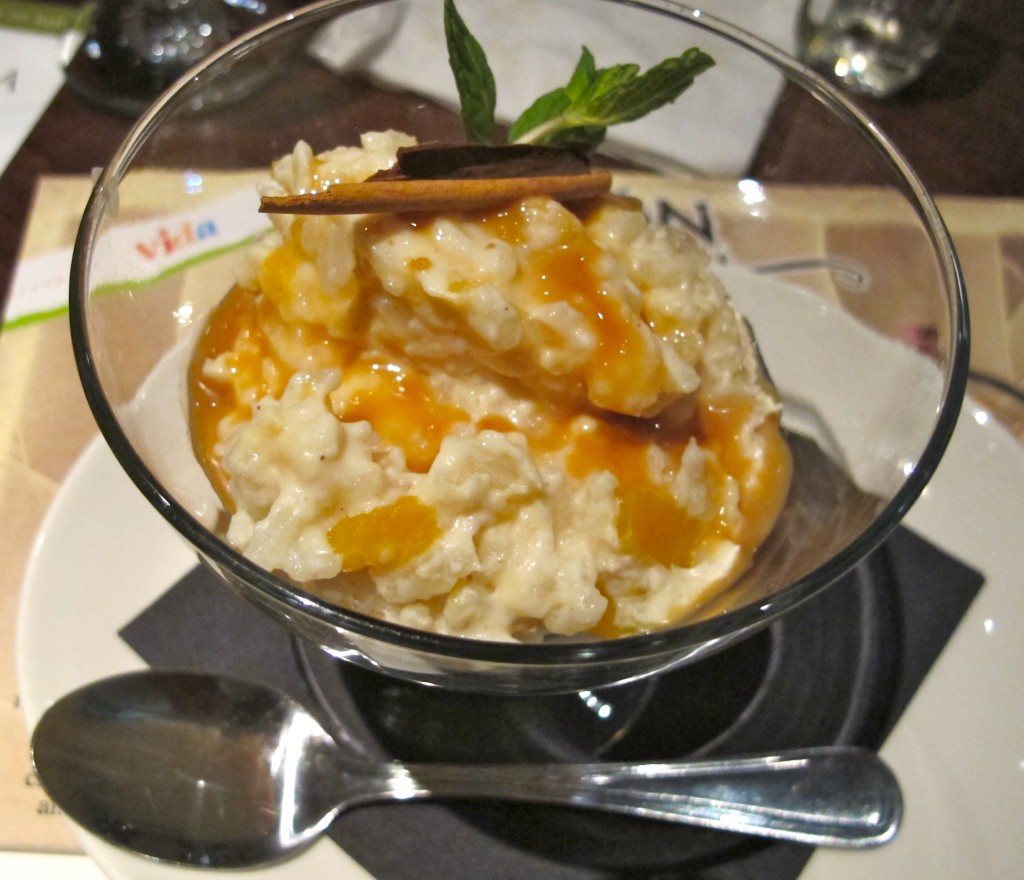 The rice pudding was topped with a mango and cajeta sauce. I have issues with both texture and overly coconutty things, but I have to say, this dessert was incredible. It was not overly sweet, and the texture was perfect. I would have to say that this was the best tequila pairing. The Avion Añejo and rice pudding seemed to work together to bring out each other's flavors. A perfect pairing.
And presents!
The dinner itself was delicious and enjoyable. I loved mingling with drinks in the beginning and chatting with new people over the dinner while representatives from Vida and Avion told us about their drinks and food. I was more than satisfied with my evening out, but they threw in a little bonus. Goodie bags for everyone!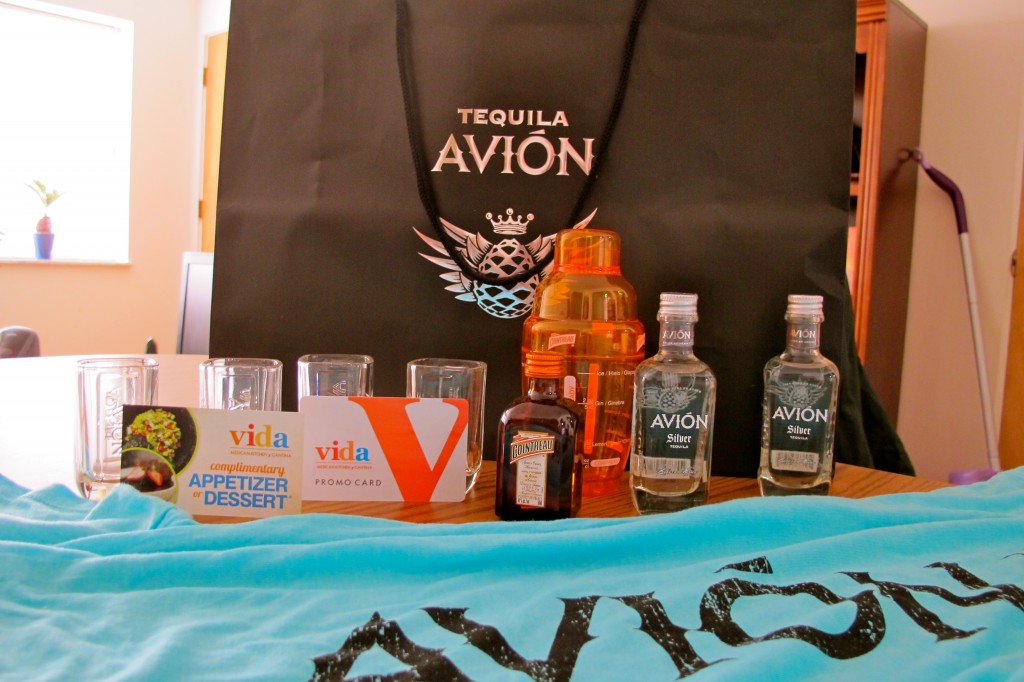 They certainly did not skimp. Every bag came with:
Two mini bottles of Avion Silver

One mini bottle of Cointreau
A mini drink mixer
4 Avion shot glasses
A $10 giftcard to Vida Mexican Kitchen y Cantina
A gift certificate for a free appetizer or dessert from Vida Mexican Kitchen y Cantina
An Avion t-shirt
The t-shirts came in both men and women's styles and they were very good about switching out sizes so you could actually find one that fit. Free t-shirts are nice but mine usually end up as sleep shirts or workout clothes. However, the women's Avion shirts came in V-neck style in fun colors. I'm actually wearing my shirt right now. A shirt I will actually wear plus all kinds of free food and booze? I'm in love. I can't wait to mix up some drinks with my Avion tequila and use my giftcards to gorge on some incredible Mexican food at Vida.
2 Responses to Avion Tequila Pairing Dinner at Vida Mexican Kitchen y Cantina